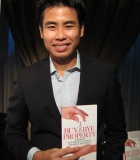 This column was written by Getty Goh, who has a Masters in Real Estate from the National University of Singapore (NUS) is the CEO of CoAssets.com, South East Asia's first crowdfunding website....
The Singapore property market is now in the doldrums, and many homebuyers and investors are keeping away for the time being. If you have been reading my articles, you may notice that most of them have been quite bearish however, during one of the recent talks someone asked me how he could capitalise on the current market situation. Specifically, the question was "why it is still a good time for some investors to take action to invest in Singapore properties and what to look out for".
That got me thinking. While I am not a property salesperson and do not have any vested interest to talk up the market, I thought it would be interesting to take a contrarian view and to give some tips to those who are still thinking of buying a property right now. So here goes …
Tip 1: Downtrends do not last forever. Buy now in preparation for the recovery

While analysts, including myself, expect the market to stay muted for some time, buyers must be mindful that the downtrend will not last forever. This means that the property market will recover at some point. As the property market moves in cycles, what goes down will come up and vice-versa. This can be seen from the coloured zones in Figure 1 below.
Figure 1: URA Private Property Price Index
Source: URA and Ascendant Assets Pte Ltd
Have you ever wondered if the URA PPPI saw more periods of increases or decreases? If we were to look at the quarterly index since 1975, of a total of 159 quarters the URA PPPI increased 98 times while it only decreased 61 times. This means that as a whole, the property market has historically been on an upward trend. This reinforces the point that a lacklustre market is actually the best time to get into the property game.
Tip 2: The best time to bargain hunt is during a quiet market

Warren Buffett, arguably the richest investor alive, once said: "Be fearful when others are greedy and greedy when others are fearful". If you subscribe to the adage of this savy investor, the best time to take action and buy a unit should be right now – when everyone else is keeping away. Some buyers may not realise this, but it is a fairly common practice for developers to hold on to the prime units, either for their own use or to be sold at a premium at completion. In other words, some of the 'left over' units could see significant price appreciation when the market recovers as those units are actually highly sought after by buyers. While property portals are good resources for buyers to look for opportunities, buyers may also want to visit developer websites to see what deals are on offer
Tip 3: Invest in an alternative property sector – offices.

For investors who are open to alternative forms of property investments, another area they could consider investing in is the office sector. For those who are new to the commercial sector, a key draw of such properties is the fact that there is no Additional Buyer's Stamp Duty (ABSD) & Seller's Stamp Duty (SSD) for these investments. Based on the URA Office Price Index, 2014 Q4 prices continued to increase despite the overall lacklustre property market (see Figure 2). A main reason for this is because the commercial sector is still not subjected to any cooling measures. In Singapore, government agencies such as Urban Redevelopment Authority (URA) use indices to measure price movements in Singapore's residential/office market.
Figure 2: URA Office Price Index as at 2014Q4
Source: URA and Ascendant Assets Pte Ltd
Figure 3: Rental Index of Private Sector Office Space as at 2014Q4
Source: URA and Ascendant Assets Pte Ltd
Apart from price increases, it is worth noting that the rental index of commercial units has also been going up. With reference to Figure 3 above, which shows the office rental for central and fringe areas respectively, you can see there is still rental demand for offices. This means that those who get themselves a commercial unit should generally not face many issues getting a tenant. Taking a closer look at the figures, we can see that all the indexes have been on the rise in the last 21 months (See Figure 4 below).
Figure 4: Comparison of Office Price and Rental Index
| | | | | | | |
| --- | --- | --- | --- | --- | --- | --- |
| Time | Property Price Index of Office Space | Percentage Change from previous quarter | Rental Index of Private Sector Office in Central Area | Percentage Change from previous quarter | Rental Index of Private Sector Office in Fringe Area | Percentage Change from previous quarter |
| 2013Q2 | 130.8 | NA | 174 | NA | 143.1 | NA |
| 2013Q3 | 132.1 | +0.99% | 175.8 | +1.03% | 143.2 | +0.07% |
| 2013Q4 | 132.8 | +0.53% | 176.9 | +0.63% | 143.9 | +0.49% |
| 2014Q1 | 133.5 | +0.53% | 181.6 | +2.66% | 146.6 | +1.88% |
| 2014Q2 | 133.5 | +0.00% | 187 | +2.97% | 149.9 | +2.25% |
| 2014Q3 | 135.6 | +1.57% | 192.3 | +2.83% | 152.8 | +1.93% |
| 2014Q4 | 138.8 | +2.36% | 196.2 | +2.03% | 154.4 | +1.05% |
Source: URA and Ascendant Assets Pte Ltd
If you would like to download the full commercial price as well as rental index for your own analysis, click here.
Conclusion

At this juncture I must emphasise that this article is not to encourage investors to borrow to the hilt and recklessly invest. Instead, it is aimed at those who still have the ability to take action, as it is currently a buyer's market. The reality is no one will know for sure how long this weak market will last as all it takes is for the government to remove some of the measures and there will be a good chance for market activity to resume. There are only so many property cycles in a person's lifetime. For each weak market that we do not take action, it translates to lost opportunities.
As a parting shot, I would like you to think back to 2008, the period of extreme market uncertainty right after the Global Financial Crisis. Some of you could have thought of buying a unit then, but decided not to take action. For those who chose to "wait-and-see", and ended up missing the property boom, they might be wishing that they did something about it back then. Naturally, it is not easy to adopt the contrarian approach and get into the property game right now. However, for some of you, your next million-dollar windfall several years from now may actually be the result of you buying something in a weak market, so keep your eyes peeled as the next action you take could turn out to be the property gem that you have been looking for.