Have you ever wondered how the luxury side of life lives? Of course you have, we've all spent those casual moments exploring our dreams of the most expensive and luxurious
5+ bedroom properties
on PropertyGuru.
So now imagine that luxury on a global scale! From palaces through to palatial mansions, we've engaged our passion for an international life of luxury to bring you the most expensive properties in the world.
Here's our jealousy-inducing guide to what hard work (or just being born into royalty) can deliver in the way of luxury property dreams.
1) Buckingham Palace
Name – Buckingham Palace
Location – London, England
Owner – The Actual Queen of England
Valuation – GBP5.5 billion (RM30.02 billion)
Ok, we said it was going to be luxurious! Buckingham Palace might just seem like a tourist attraction, but it's the genuine primary residence and home of Queen Elizabeth II of England.
Buckingham Palace boasts over 830,000 sq ft of luxurious living, with its own post office, jewellers workshop, swimming pool, doctor's surgery, and of course gated and guarded security from the iconic Queen's Guards.
Those are the kind of touches that make the world's most expensive house so special.
A cheeky UK property site recently listed Buckingham Palace for sale, and valued it at GBP5.5 billion (if you include the mortgage). It's an enticing proposition, but I'm not entirely sure we could afford the home loan.
Of course if you're looking for British-inspired grandeur in Malaysia, you probably won't do better than exploring the
bungalows for sale on Embassy Row
, Kuala Lumpur.
2) Antilia
Name – Antilia
Location – Mumbai, India
Owner – Mukesh Ambani
Valuation – USD2 billion (RM8.12 billion)
With an estimated price tag of USD2 billion, the stunning 400,000 sq ft of vertical architectural delight that is Antilia in Mumbai is thought to be one of the most expensive private homes in the world.
This serving of skybound genius is the home of Indian billionaire Mukesh Ambani, and is named after a mythical island in the Atlantic Ocean.
This towering delight boasts over 600 staff, a private movie theatre, salon, rooftop helipad, temple, and even an ice cream parlor. Not a bad place to live by all accounts. Oh, and it's also got a room that can make its own snow, because why not?
I'm not sure you'll find a building in Malaysia that supplies its own snowstorm, but if you're looking for towering luxury, then
St Regis The Residences
, in downtown KL, is a fun place to start.
3) Villa Leopolda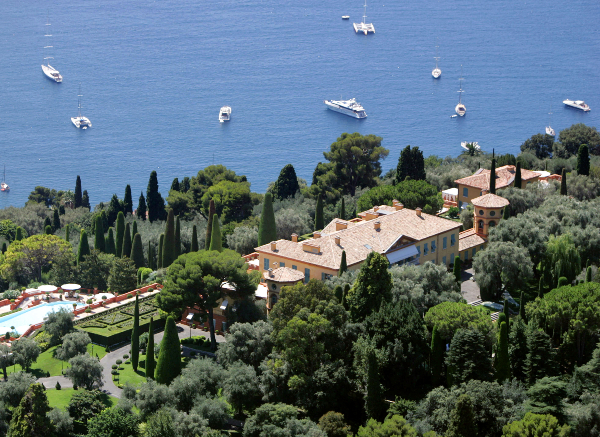 Name – Villa Leopolda
Location – Villefranche-sur-Mer, France
Owner – Lily Safra
Valuation – USD750 million (RM3.05 billion)
Our expensive homes take a French Riviera twist, with the luxurious sun-kissed joys of Villa Leopolda.
This 29,000 sq ft house sits in an 18-acre estate on the south coast of France, and was originally part of a larger estate owned by Belgian King Leopold II.
The present building was designed in the early 20th century, and cost the designer and owner Ogden Codman Jr. so much to build that he ended up having to rent it out once it was complete.
This decadent mansion and grounds is today owned by Lily Safra, billionaire philanthropist and wife of the late Edmond Safra, who was a multibillionaire banker. Its gardens are reportedly so extensive it takes 50 full-time gardeners to maintain.
4) The One
Name – The One
Location – Bel Air, Los Angeles, USA
Owner – You?
Valuation – USD500 million (RM2.03 billion)
At a valuation of USD500 million, The One in Bel Air, Los Angeles, marks the United States' most expensive house.
The best thing about it? It's not even been sold yet, so you're still in with a chance of ownership.
This modestly named property is the ambitious vision of movie producer Nile Niami, bringing a new level of ultra-decadence to an area renowned for its luxurious mansions.
The One is home to a nightclub, four swimming pools (one is never enough!), bowling alley, and gorgeous views across the sunny California landscape.
It's taken seven years to build, which to be fair is only approximately USD70 million valuation per year of construction.
So where do you go if you want your own stunning views and ultra-decadence in Malaysia? It's probably time to consider buying a
home in Damansara Heights
, KL.
5) Witanhurst
Name – Witanhurst
Location – London, England
Owner – ?????
Valuation – USD450 million (RM1.83 billion)
Back to the streets of London for our fifth and final contender. Witanhurst is a gated and guarded 1930s mansion located in Highgate, north London.
The original estate dates back to the 18th century, when this area was a desirable country town five miles from London. Of course London is a beast that swallows country towns whole, making Highgate part of its cityscape in the years that followed.
Witanhurst is a mansion with an intriguing history. It has been bought and lost by many rich owners over the last century.
It boasts over 90,000 sq ft of luxury-if-someone-renovates-it, with over 65 rooms, 25 bedrooms, and its own ballroom. Rich people love to dance it seems. That renovation is underway, with an ultimate valuation of USD450 million thrown around to summarise the conclusion.
The mystery is… nobody knows who owns it! London has long been a favourite of the ultra-rich, who are notoriously reluctant to reveal their wealth or what it's spent on.
*Note: All conversions are based on currency exchange rates of: USD1 = RM4.06082 and GBP1 = RM5.45485
Want a luxury home in Malaysia? It's time to explore The 10 Most Expensive Residential And Commercial Properties in the country.