A backyard garden can be a w
onderful addition to any property. It offers a space to relax and warm your spirit in your own patch of nature. It can be a crafted place of beauty lined by vibrant flowers.
It even provides the chance to grow your own food and enjoy the fruits of your own labour. But like most good things in life – making the most of it can require some work.
There are a range of backyard design styles and garden layouts you could consider to enliven your outdoor space. So let's explore what your garden could be, and how to go about transforming it.
It Doesn't Take Rocket Science For A Backyard Garden, Y'know…
There's an easy beauty in a natural slice of green space outside your home.
If you're looking for a garden design idea that's simple and straightforward to maintain, then manicured grass and a basic flower border might be a good place to start.
But here are 5 more focused backyard design ideas to consider for your space.
1) Flower Garden
A flower garden offers the chance to create a bright, vibrant display in your outdoor space.
There are two types of flowers you need to consider when planning your flower garden – annual flowers vs. perennials.
Annual flowers have a year-long lifecycle that see them blossom, and then die.
Perennial plants are leafier flowering plants that (with the right care) survive through one season and into the next.
It's important to consider the mix of colours and plant types when planning your flower garden.
And if you're a beginner, rugged flowering perennials such as jungle flame (Ixora coccinea) and Mexican petunia (Ruellia brittoniana) are a good place to start.
2) Rock Garden
Rock gardens offer a stunning setting to your garden that sidesteps the potential worries of maintenance that flower gardens might stir.
A well-designed rock garden incorporates elements of the natural area around it, drawing in rocks, stones, and even foliage, to create a soothing outdoor space to enjoy.
Don't forget to weave in some natural beauty to the calming stones, bonsai trees or plants like Wrightia religiosa can add a subtle splash of green or colour to the surroundings.
3) Water Garden
A water garden is another eye-catching way to connect with the spiritual side of nature. A simple stream trickling over rocks provides a soothing sound that can wash away your daily troubles.
The challenge with a water garden is designing the right system to create that continuous flow of soothing water while also being able to cater to the high rains at certain times of the year.
The chances are that a complex water garden will require professional help, but simple systems for streams and fountains can be adopted by confident enthusiasts if desired.
4) Vegetable Garden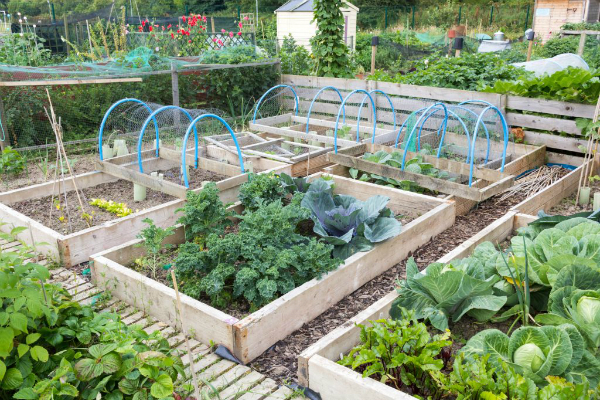 An outdoor space provides the chance to enjoy some green fingered activities that leave you with fresh food as a result.
Vegetable gardens or fruit gardens are a great way to create fresh, healthy food at low cost. It's also a soothing activity that will nurture a sense of fulfilment as you tuck into the delicious rewards at the end.
Make sure and plan the right vegetables and fruits to complement the space, taking into account things like available light and spacing for upward growth or roots.
5) Herb Garden
Another great way to a
dd a culinary twist to your outdoor space is with a herb garden.
With the right herb choice for the environment, herb gardens are a low-maintenance task, requiring good planning at the start and an eye towards appropriate watering through the course of a year.
Herbs are a great way to provide a natural setting with real benefits to the household.
To DIY Design, Or Hire Pros; That Is The Question!
Like any property upgrade, a great outdoor space can add real value to your home. But it's also a fantastic opportunity to create a space that's more warm and fulfilling to live in.
The first step for backyard garden design is understanding your goals, and assessing whether professional help might be part of that equation.
Benefits Of A Landscape Architect
1. Professional Experience
The experience that a landscape architect could bring may be invaluable. That means designing a stunning garden space that also takes into account challenges such as:
Soil type

Drainage

Other areas that an amateur might not consider
2. Natural Understanding
It's not just practical considerations of terrain that a landscape gardener can bring, but a deep understanding of the natural challenges.
That means planting the right plants to complement each other, providing space to breathe, placing the right species in the shade, and other considerations for the longevity of your garden.
3. Less Hassle
If you're paying a professional to design and develop your backyard garden, that means less of a challenge trying to find the time and energy to create the space yourself.
That's far less hassle in the long run!
4. Timing
Not only will a professional likely deliver your garden far quicker than you could yourself, they also know the best time of year to do so.
That means no planting your vulnerable young plants just before the rainy season, or setting down loose soil that's going to wash away the next day.
Benefits Of A DIY Backyard Garden
1. Cost Saving
Paying someone might deliver professional results, but it also requires payment of much more expensive rates.
It's far cheaper to design and develop your own garden… assuming you don't kill all the plants and have to do it all over again a year later!
2. Sense Of Reward
The sense of reward in seeing the results of your own work when coming up with a backyard design cannot be overlooked.
Creating a beautiful outdoor space for you to enjoy provides benefits that will resonate every opportunity you take time to enjoy the space.
3. Freedom To Evolve
If you're the one in charge of developing your backyard garden, you've got far more freedom to adapt and evolve as your preferences change.
With a landscape architect you either pay for a one time design, or pay continuing retainer/rework fees.
4.Learn A New Skill
Gardening and plant care is actually an enviable skill to have.
As you learn how to develop your garden you gain a valuable skill that adds a further sense of reward, and provides you the knowledge to care for your garden going forward.
5. Connect With The Natural World
Spending time in an outdoor space is important to connecting with the natural world, but that spiritual connection of truly nurturing a living, breathing garden provides another layer to this wonderful experience.
Budgeting For Your Backyard Garden Design
Unlike work undertaken to the interior of your property, garden design doesn't necessarily cause disruption to your daily life
So you can be more flexible in your timescales and how you want to undertake the project.
That doesn't mean you should avoid planning altogether though.
Sit down and consider your budget for your backyard design. This should also help you weigh up the pros and cons of hiring in a professional.
Check out the prices of plants and materials you need through a local gardening store, or through an online shop, giving you a broad idea of the initial costs that might be required.
Remember that garden design can be a gradual process, so if your budget is limited you could plan ahead to create your garden in sections.
Although a good understanding of the big picture is still important at the start.
Whatever route you choose, don't be afraid to let your imagination free, and create a backyard garden design that truly appeals to you and your family.
A great home starts with a beautiful property, and garden design can be an important part of that. Thousands of homes are added to PropertyGuru every day, and that beautiful flower bed you've just planted could be the thing that makes yours stand out. Why not explore properties for sale, and see how a great garden can really make a home unique!