In an
unintentional mass experiment
not too long ago (read: the COVID-19 pandemic!), the global workforce was simultaneously thrust into working from home.
After the initial shock, it was no surprise to see hordes of people purchasing IT equipment to stay connected, and keep the global economic engine running.
It was an uncertain time, but having lived through it for 10 months and counting, we're now somewhat accustomed to these stay-home routines. So it begs the question, is the work-from-home (WFH) arrangement here to stay?
What The Numbers Say
However, 64% agreed that some challenges needed to be overcome such as network issues, communication barriers and a lack of technology readiness, all of which directly correlate to productivity.
The good news is that 56% of employers support remote working post-MCO, which is crucial in transitioning the workforce to becoming more agile and effective.
Like everything in life, WFH has its pros and cons. Is WFH the new norm, and something to look forward to? Take a look at these benefits and see how many you can relate with!
What Are Some Of The Benefits Of A WFH Arrangement?
1) No Traffic
Everyone can agree that commuting to and from work during rush hour is horrendous. We spend hours on the road on normal days, and even longer if there is an accident or a natural disaster, like flooding!
WFH has given many the option to sleep in and skip the mental anguish of braving traffic jams, which ultimately contributes to increased productivity.
This is because employees are no longer exhausted and angry from sitting idle (sometimes for hours),in jams right before starting the workday.
2)
Time Management
WFH requires plenty of self-discipline and proper planning, to be able to manage your time well to get all the necessary work done.
Taking more breaks throughout the day also helps increase your focus and productivity, while allowing those creative juices to freely flow.
Establishing a routine that works well for you will allow you to reap the benefits of spending more quality time with family or indulging in some me-time.
3) Eating Healthier
2020 breathed life into the inner Gordon Ramsey in all of us! Some of us found our love for cooking and baking, and even started up side businesses to generate a bit of income.
With easy one-pan winners to a perfectly executed 3 course meal worthy of a Michelin star, there is no doubt that WFH has opened us up to a world of
healthy home-cooked food
.
This is especially true in the middle of a pandemic, when we need our immune systems up and at its best.
What You Need To WFH Like A Boss
1) Home Office
What is your current home office setup like? Do you have a dedicated space to work, or is it mobile? Do you know what setup helps you increase or maintain productivity?
These are some questions to get you thinking about your personality, productivity, and the impact it has on your job.
Some might prefer working in an environment with little to no distractions, while others prefer to maintain some social interactions with their family, or even sit outside on a nice breezy morning to get some work done!
None is right or wrong; a home office is supposed to make it easier for you to get into a routine and mindset, where you can focus on your job in a dedicated space.
A physical barrier can increase your daily concentration, while at the same time, allowing you to unwind after work to avoid burnout.
2) Internet Connection
Over the last year, telecommunications companies globally have had the task of ensuring billions of users remained connected during the various stages of the lockdown.
In Malaysia, during the first week of the lockdown, we experienced a sharp decline in the average download speed for both mobile and fixed broadband.
Having a stable internet connection at home is crucial to not only get the job done, but to get it done efficiently. Good internet speed increases productivity tremendously, unlike the days of dial-up internet connections. We sure have come a long way!
3) Ergonomic Furniture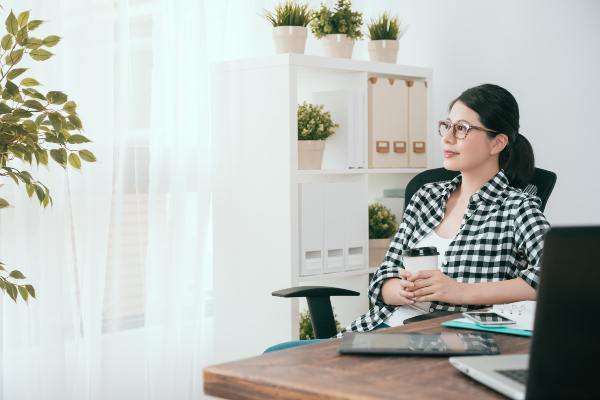 Anyone who has experienced discomfort after sitting down in front of a computer for extended periods of time, will tell you that it is important to take regular breaks and stretch, or perform light exercises at your desk.
While all that might be easy to accomplish when working from home, it is important to ensure your furniture is ergonomically designed to continually support your posture while you work.
In the long run, it will boost your productivity, reduce any aches and pains, as well as help you maintain a healthy body overall.
4)
Moving Away from the City
As the WFH culture takes hold and more job prospects become available to us from all corners of the world, it'll be easier (and even make sense) for some to shift from living in urban dwellings, to bigger spaces on the outskirts of major cities.
With Malaysia's wonderful weather, budding gardeners have access to more space to grow food for
increased food security
.
It's also easier to take short breaks during the workday by going for a stroll in the garden. After all, they say that green spaces have the ability to reduce stress, making the
move away from cities
even more attractive.
As we settle into 2021 and continue to look for ways to strike a balance between work and play at home, now is the time to begin discussions into how we can be more productive when working from home.
Who knows, you might be helping someone find a simple solution to enable them to work from home more effectively!
Want to find a home that's close to a green lung, so that you can reap the benefits of fresh, clean air? Look no further than these properties that are located close by KL & Selangor's biggest parks!