There's a large black stain in the corner of your shower. You've scrubbed at it for hours, but the horrible discolouration won't go away!
This is a battle against fungus, which we're sure most people have experienced, at one point or another.
Mould and mildew are the enemies of a clean home.
That might sound over-the-top, but it's just the way it is. This is war, and we're declaring ourselves firmly committed to the battle against this terrible enemy.
Strap on your rubber gloves, put on your determined cleaning face, and get ready to fight. Here's everything you need to know about beating mould and mildew.
Mould Or Mold?
'Mould' is the British English spelling, and 'mold' is the American English spelling, because American English has a deep-seated hatred of the letter 'u'. We don't know why. We're afraid to ask.
Mould and mold both refer to the same thing. In this context – a type of fungus which likes to grow in dark and damp environments.
What Is Mould?
Like we outlined above, mould is a type of fungus which grows in dark and damp environments. They're completely naturally occurring organisms, that exist in the world around us.
The fungus will appear in black, blue, red, or green when growing in your house. The most common form you'll see is likely to be the black mould in warm, damp areas like the bathroom.
Now, this fungus tends to grow not just on the surface of damp materials, but also penetrate into the material.
What Is Mildew?
Mildew is also a type of fungus which likes to grow in dark, damp, and warm environments. However, it tends to be lighter in colour, mostly white or grey.
Unlike mould, mildew will grow across a surface, rather than penetrating into the material itself.
When Might Mould Or Mildew Occur?
Mould and mildew are both unpleasant to have around the home. But they're also a potential sign of things not being quite right.
They tend to grow on surfaces that have been wet for a long period of time, and can be an indication that your property has a problem with damp (water leakage, for example).
Of course, if it's a bathroom, it's more likely down to poor ventilation, and areas that stay persistently damp after you shower.
Mould and mildew can be a particular problem in areas of high humidity. Thanks Malaysia! That means it's at more risk of growing during particularly humid periods.
There are a few key reasons why the fungus might be occurring, that you should definitely keep an eye out for:
Humidity –

is how much water vapour there is in the air. It's an environment where both types of fungi can thrive. That can be a particular problem in Malaysia's climate.

Condensation – often relating to bathroom facilities or areas exposed to steamy air. This is why you're more likely to find the fungus growing happily in your bathroom.
Plumbing issues – can occur in situations such as living in a stratified property, where some issue causes dampness to collect between apartments.
Poor weatherproofing –

can mean water manages to get in around window frames, or through bad roofing. This can also lead to the fungus growing in these areas.

Rising damp –

the worst-case scenario for mould and mildew. This is when the natural moisture in the ground rises up through the walls of a property, especially near the bottom. In most cases, it should be prevented by proper damp proofing when the building is built.
How Can Mould And Mildew Affect Your Home (And Health)?
The impacts of mould and mildew can vary from aesthetic displeasure, to a cry-into-your-breakfast construction problem, requiring significant work to repair.
The good news is that it tends to be more a question of good air flow and natural light, than a major construction issue.
It's only in cases where poor plumbing, bad weatherproofing, or rising damp are the causes, that they may require significant action.
If you're suffering from rising damp in particular, that can be a sign of poor construction, which requires invasive damp proofing work.
That can mean ripping up the floors and digging into the walls. You can see now why we've declared war on mould and mildew!
These types of fungi are also bad for your health, and can cause problems such as respiratory issues, asthma, and allergies.
Moulds produce substances that can cause allergic reactions, irritants in the air, and sometimes even produce toxic particles. That's why it's important to tackle it as soon as you can!
Symptoms of the fungus impacting your health can include sneezing, coughing, runny nose, itchy eyes or throat, and poor skin.
In more vulnerable individuals, it can even cause severe breathing issues.
How To Prevent Mould Or Mildew Forming
Prevention is your first priority! Something as simple as opening your windows for 15 minutes at a time a day to let in a breeze can really help.
Sure, the weather outside can sometimes be humid, but it's a lot less humid than the steamy air in your bathroom!
A dehumidifier can be another helpful weapon in this fight. While it won't keep surfaces clean and dry, it does remove the humidity from the air that encourages the growth of mould and mildew.
Another option is to actively wipe down surfaces, particularly in areas like the shower. If you know there's a specific corner of your shower where water often gathers, then get a cloth to wipe it down.
If you're constantly battling mould or mildew in your bathroom, it might even be time to consider improving the ventilation. Perhaps speak to a professional about a more powerful extractor fan to remove warm and humid air.
An air conditioner moving air around can also help to keep air fresh in your home, but most will not be designed to specifically remove humidity, so it's probably not the most cost-effective way to go about things.
10 Steps To Remove Mould And Mildew
Okay, so you've done your best to prevent the growth of these fungi, but the horrible stuff keeps growing anyway! Here's our 10-step plan to help you fight mould and mildew:
1) Identify the source
The removal process starts with understanding why it's happening. In some cases that can be an obvious case of a damp bathroom. In others it's a bit more of a challenge.
The reason you need to identify this first is because, unless you're some sort of damp-proofing engineer, you're going to need help in the most serious cases.
2) Assess the extent
When you first notice the fungus, it could be a stain on the seal around your bath, right up to an extensive black growth on a wall.
In most cases you're probably just talking about a small patch you can tackle yourself. Serious areas of mould will need the work of a professional.
Don't put your health (or property!) at risk by trying to tackle substantial mould on your own.
3) Speak to your neighbours/building manager
This is relevant mainly to stratified properties. If you're experiencing fungus in an area such as wall or ceiling, then you need to speak to your neighbours.
It could be they are also experiencing the same problem, in which case it might be down to a building manager to properly assess the issue.
There's no point taking action as an individual if the problem is only going to come back, because of an area outside your control.
4) Throw it away
This is only an option with moveable goods, but if for example you notice the black patches in a curtain or carpet, that best option is often to throw it away.
Trying to clean a fungus infestation is often a futile task on items like this.
5) Gear up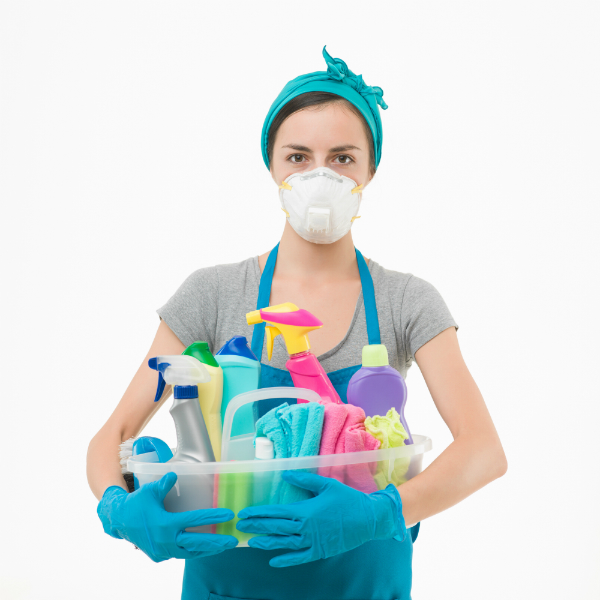 If the fungus growth is a small enough area to tackle yourself, it's time to gear up. You should try and wear a N95-rated face mask to stop any respiratory issues once you've disturbed the patch.
Also wear rubber gloves on your hands to avoid any removal products causing problems with your skin.
6) Find the right products
Unfortunately, not all types of fungi respond in the same way to the same products. That makes mould and mildew removal something of a trial-and-error process in some cases.
The most common forms of mould and mildew are treated by popular products such as:
SC Johnson Mr Muscle Mould & Mildew Cleaner

Miracle Mildew Gel

Clorox Mould & Mildew Remover With Bleach
7) Do it the DIY way
Don't tell the big brands, but you can also go DIY on your mould and mildew problem. Bleach can be a powerful weapon in the battle against these fungi, and all you need is regular bleach, and a lot of elbow grease.
A mixture of bleach and water (4 parts water to 1 part bleach) can be a really effective cleaner.
Bleach can be dangerous if it gets in contact with your skin, so be careful, take precautions, don't throw it around like you're having a party.
Another option is to spray white vinegar (undiluted) on to the affected areas, and let it sit for an hour at least. Wash it off with water, and repeat if necessary.
8) Wipe, spray, scrub
First of all, wipe the surface to make sure it's dry. That stops the water acting as a barrier against your product. Spray the product, and give it time to penetrate the mould or mildew.
Remember that these products can cause damage to certain materials, so only spray on areas you know are safe to use it on, such as bathroom tiles.
If in doubt, check the product label. You can also try the product on a small piece of the wall/material first, in a place where nobody will see any discolouration.
9) Paint and repair
Sometimes your fix might involve a heavy-handed approach that requires a little damage to paint, or even stripping a section completely.
You should always identify the cause of the damp and mildew before you think about painting back over it.
Otherwise you're just hiding the problem for another day.
Assuming that is tackled, it's time to paint and repair. Use an anti-mould paint such as Easy Care Anti-Mould, Nippon Paint VirusGuard, Dr Wall Anti-Fungal paint, or any similar product.
You can always ask the nice people at your local hardware store for advice!
10) Speak to the professionals
If the fungus growth is too extensive, or you're just not confident removing it yourself, speak to the professionals.
The longer you leave it, the more of a problem it will become. It's worth paying to get it fixed now rather than leaving it until it's a more expensive and extensive problem later.
Although the thought is always the more the merrier, that definitely doesn't apply to mould and mildew. You want to have as little of it as possible, and if you could opt to remove it from your life permanently, that's better.
Leaving mould and mildew to grow in your house will only open up avenues for health problems, and an interior/exterior that looks like your home belongs in a horror movie.
There are so many ways you can tackle this problem and rest-assured, you're not alone in this war.
Step 1)

Identify where it's coming from.

– Where is it? Is it mould or mildew?

Step 2)

Assess the extent of damage.
Is it a small little patch that can be cleaned easily, or is it a capital B-I-G problem?

Step 3)

Ask your neighbours/building manager.
Is this only happening to your house? What about others? Maybe the entire neighbourhood is facing the same problem!

Step 4)

Dispose it (if you can).
Only for easily movable items like rugs, carpets, bags, and shelves. You very well can't dispose of your entire wall.

Step 5)

Get your gear on.
Rubber gloves, N95 mask, bandana to keep your hair back; anything you need to get ready for war of the moulds (only applicable for small growth areas though. If it's a big problem, you need to call the big guys).

Step 6)

Find the right anti-mould/mildew products.
However, not all fungi respond the same way to the same products, so you'll need to be patient while this trial-and-error goes on.
Recommended products: SC Johnson Mr Muscle Mould & Mildew Cleaner, Miracle Mildew Gel, Clorox Mould & Mildew Remover With Bleach.

Step 7)

Try to DIY, it may work better.
If those products don't work, perhaps old-school DIY will do just the trick.
Recommended methods: Bleach and water mixture (1:4), undiluted white vinegar.

Step 8)

Wipe, spray, and scrub.
Wipe the surface and make sure it's dry. Spray some of the product and let it sit. Scrub, if needed.

Step 9)

Paint and repair.
Once you've tackled your mouldy problem, it's time to paint it over and make any repairs.
Recommended products: Easy Care Anti-Mould, Nippon Paint VirusGuard, Dr Wall Anti-Fungal paint

Step 10)

Talk to a professional.
Don't let mould move over and overtake your life. If the growth becomes extensive and no method works, or if you're worried about tackling it yourself, you're not alone. Seek help before it gets too big to handle.
Want more tips to make a happier, cleaner home? Let's plan for something more positive! Here are 7 Types Of Living Room Design Ideas To Inspire You!