An open kitchen layout is becoming a popular design option, as it gives you more visual space compared to a closed-up kitchen type.
It also simplifies the structure and the fluidity of your home's interior design as much as possible, without sacrificing its functionality.
Although a number of Malaysians are still not quite as comfortable with the open kitchen design yet, below we'll show you some of the added benefits of incorporating an open kitchen concept in your home.
1) It Allows You To Multitask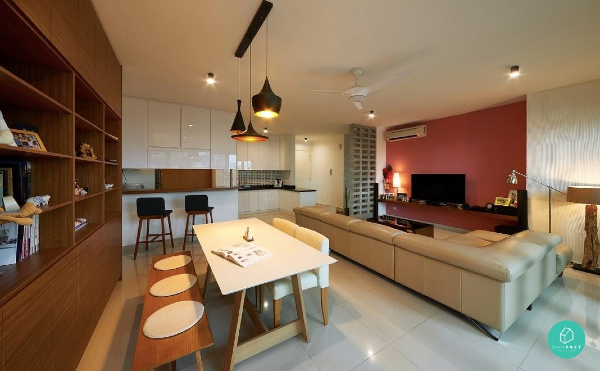 An open kitchen concept is convenient for homeowners with a busy lifestyle. For instance, you can prepare your meals while easily keeping an eye on your children's activities in the living room.
In fact, you could even catch up on your favourite movies, TV shows, or the daily news playing in the adjoining room whilst preparing meals – all without struggling to hear the words being said!
2) It Encourages Social Interactions Among Family Members And Guests
With an open plan design, you can interact with your family members and/or guests while you're busy cooking up a delicious feast.
Being able to chat with and entertain everyone (in the middle of all your preparations) will allow them to feel more at home – comfortable and relaxed with their surroundings.
3) It Provides More Access To Sunlight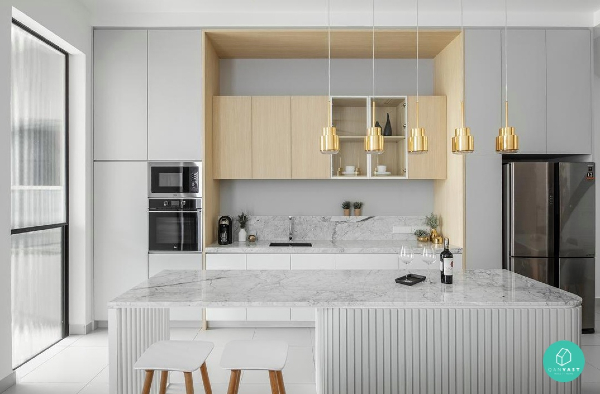 Walls and partitions tend to reduce the natural light that comes into a room. This is particularly true if your home is oriented away from direct sunlight.
With an open layout, you'll have better access to sunlight and air ventilation, creating a more pleasant environment. Plus, you'll also be able to save on electricity bills!
4) It Provides Extra Dining Space
For families who love to host gatherings or parties, an open kitchen layout allows you to rearrange the space as needed.
For example, a kitchen island can be turned as an impromptu seating area when the dining table is fully occupied. So you don't have to worry about accommodating people more than what your dining area can fit.
5) It Encourages Homeowners To Keep Their Kitchen Looking Neat
Without anything to hide behind, an open kitchen becomes an extension to the living room, hence it encourages homeowners to keep their kitchen area clean and tidy.
A messy area will leave guests with a bad impression; to avoid taking chances, you're more inclined to maintain a clean kitchen since you won't know when unexpected guests decide to come over unannounced!
6) It Helps To Visually Expand Your Space
If you live in a studio apartment or a property that has a longer layout, dividing the space with walls will make your home become much smaller.
A simple way to trick the eyes into thinking that you've got more square footage in your compact living space is to embrace an open kitchen design.
Not having partitions, walls, or other barriers that separate the kitchen with other living areas mean you will gain extra square footage besides visually expanding the space.
7) It Provides Easy Access To The Dining Area
If you live in a smaller house where the rooms are somewhat restrictive, you probably have difficulties in moving freely around your house.
In houses like these, an open plan kitchen is an excellent solution as it allows you to have better mobility and easy access to the dining area when serving food.
—–
Looking to renovate your kitchen?
Because the kitchen is the heart of your home, how it's designed matters. Find the right help for your kitchen makeover by requesting free interior quotes with Qanvast, and we will recommend you with up to five reliable interior firms, based on your budget and preference
All recommendations made by Qanvast will be protected under the Qanvast Guarantee scheme that covers 50% of your contract value, up to RM50,000, in the case that the recommended interior firm becomes insolvent.