As sustainability and being eco-friendly is all the rage, setting up your home to be as green as possible should be the next thing on your to-do list.
A green home not only saves you money and a cut on your utility bills, but choosing the RIGHT materials as the building blocks can be great to reduce natural resources that are used in homes.
If you'd love to turn an existing property green-centric, these innovative green home tips below will help you stand out and make full use of natural resources with less wastage.
1) Lay it Down with Cooling Floor Tiles
Malaysia is a land of never-ending summer, so be smart and outfit your home with cooling flooring tiles that'll help your home feel cool – at least for your feet!
Porcelain and ceramic tiles are always welcomed in homes, and if you have the budget for it, go for natural marble tiles as they're more hardy and look gorgeous in any home.
If you like the look of wooden flooring such as traditional parquet floors (minus the missing loose pieces!), opt for smooth vinyl that looks like wooden flooring as it's easier to clean and feels smoother.
2) Switch to Blackout Curtains or Blinds
Switching to blackout curtains or installing blinds may be regarded as a not-very important aspect in keeping your room cool, but you'll be surprised at just how effective it is.
Blackout curtains are typically made of thick material that helps to block out the sun, thus ensuring that the temperature in your room isn't too hot that you'll feel like blasting the air-conditioning all day long.
Blinds, once appearing as old-fashioned and pesky, now come in a great selection of designs, opacity, material, as well as light and privacy-control to match your interiors.
Also, you won't need to struggle with tugging on those cords to open or close your blinds, as there are remote-control options available in the market now.
Sustainable bamboo blinds are available too, for an added touch of whimsical chic and eco-friendliness.
3) Tint Your Windows
If blackout curtains and blinds are not your thing, choosing to tint your home windows is a cheap and just-as-effective alternative.
Similar to tinting your car windows to minimise sunlight, heat, and harmful UV rays, the same can be done to your glass sliding doors and windows (no matter its size).
A bonus with tinted windows is that you can still have your privacy, without the need for additional work that comes with washing the curtains or dusting the blinds.
4) Choose the Right Wall Paint
Darker colours absorb heat better than lighter colours, which is probably why everybody advises not to wear dark clothes if you're actively outside during the day.
Paint your outer walls with bright and neutral colours like white, beige, and cream to repel more heat.
On the other hand, the inner walls can be covered with special paints that are proven to reduce the temperature of the room (heat-resistant).
5) Invest in Solar Panels
Solar panels may come as a very hefty upfront purchase for your home, but don't let that fool you as they'll save you big bucks in the future.
Luckily for us, we live in sunny tropical Malaysia, so getting all the electricity you need for the entire day won't be a problem at all!
Aside from that, the government is
offering those who install solar panels
on their roofs
"…lower tariffs, tax incentives, solar leasing programmes, and reduced electricity bills…", so what's there not to love?
Sounds interesting, we know. Alternatively, you can opt to pay for electricity purely generated by solar power itself!
6) Insulate Your Roof Properly
Your house feels hot when your roof has been heated and conducted to the shingles, which then heats up the air in your attic and eventually your ceiling until voilà, you've got a hot house!
Insulating your roof helps to prevent heat from entering your living space in the first place, and there are many cost-effective options to choose from, so don't hesitate to pester your contractor for more information.
Those who are living in high-rise homes may not be able to change their roofing to keep out the heat, but luckily there's an alternative in the form of ceiling paint that can help to keep the temperature down.
7) Harvest and Filter Rainwater
If Malaysia's not sunny, it's rainy (unless it's the durian season). For the sun, we have solar panels and for the rain, we have rainwater harvesting systems.
The cost of a rainwater harvesting system depends on the size of the tank, the location where it's installed (balcony, under the roof, etc.), as well as the pump and filter used in the system.
Once the system is installed for both residential and commercial properties, the harvested rainwater can then be used in washing machines, to flush toilets, and even as drinking water if treated properly.
Talk about making use of all our natural resources to build a green home that's super eco-friendly and zero waste!
8) Combine Your Toilet with a Sink
We're very used to using the toilet bowl, and then walking two steps away to wash our hands, but what if you didn't have to?
This 2-in-1 toilet-sink combo was first introduced in Japan and it's a fabulous way to save and reuse water. The water used from washing hands will be channeled back into the cistern and ready to use for the next flush.
If that's not all, you can also save water while flushing by installing a dual-flush toilet like the ones commonly seen in shopping malls and office buildings.
The smaller button uses less water for flushing, while the bigger does the opposite. So for your 'number 1s', press the small button, and for your 'number 2s', the big button will take care of it!
9) Grow Trees and Keep Plants for Fresh Air
You could spend hundreds of Ringgit on an air purifier and place one in every room, or you could go the tried-and-tested route and incorporate plants into your lifestyle.
Plants are, of course, known to give out oxygen and clean the air, so having a few in certain sections of your home can help you breathe easily, while making the rooms a lot more pleasant.
Make sure you do proper research before selecting what types of plants to start growing, as some may grow big roots that can possibly become difficult to manage if overgrown.
10) Talk to a Sustainability Consultant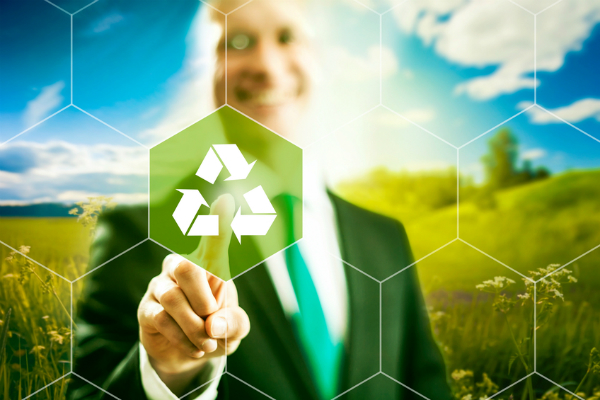 When all else fails, it's always best to talk to someone who knows this topic best – a sustainability consultant.
They'll be able to help you understand and solve your green home worries better, so you won't have to risk spending tonnes of money on changing and fixing things which then have little to no impact.
Turning your home into a green home may seem like a big and difficult challenge, but if you tackle it bit by bit, it isn't that much of a hurdle after all.
Even items like furniture can be made out of sustainable, green options like wooden pallets for tables, rattan or bamboo chairs, and even foot-stools made of ecobricks.
Looking for other ways to incorporate an eco-friendly lifestyle into your home? Check out our other easy-to-follow sustainable home tips here!
Disclaimer: The information is provided for general information only. PropertyGuru International (Malaysia) Sdn Bhd makes no representations or warranties in relation to the information, including but not limited to any representation or warranty as to the fitness for any particular purpose of the information to the fullest extent permitted by law. While every effort has been made to ensure that the information provided in this article is accurate, reliable, and complete as of the time of writing, the information provided in this article should not be relied upon to make any financial, investment, real estate or legal decisions. Additionally, the information should not substitute advice from a trained professional who can take into account your personal facts and circumstances, and we accept no liability if you use the information to form decisions.