What is a 'defect liability period', you may ask. Well, did you know that when your new property is ready for key collection, the developer will provide a "warranty" for it in case of defects?
Think of it as similar to the warranty you get when you buy a new appliance, like a TV. But, unlike a new TV, you cannot exchange the property for a new one if something goes wrong.
Instead, what you must do is to conduct a thorough inspection of your new property. Mark out any issues, and get the developer to fix them before the warranty period runs out.
This warranty period is commonly known as the 'Defect Liability Period' (DLP).
For a new home of about 1,200 sq ft, it may take anywhere between 2 to 6 hours to complete a regular inspection (depending on how thorough you want to be).
Here's a guide for you to refer to, so that you can ensure your inspection is as complete as possible!
What Is The Defect Liability Period?
The Defect Liability Period is defined as the period of time from the date you receive delivery of vacant possession and keys to your property, where the developer is responsible to fix any defects.
It's important to note that
not all new developments come with a DLP
, as the
Housing Development Act (HDA)
only protects properties and developments under a
Residential title
.
Under HDA Malaysia
, the
DLP is 24 months,
starting from the date you receive your keys. Within this period, the
homeowner will need to check for any damage, defects, as well as poor or faulty workmanship.
Any issues need to be reported back to the developer to get them repaired for free.
How Do I Prepare For The Defect Inspection?
When you do the defect inspection, you are basically trying to answer three main questions:
Does the property match what was promised by the developer?
Do all the fixtures and appliances work?
Is the workmanship satisfactory?
On the day of inspection, this is what you should bring along (according to Lowyat user aaronpang):
Your new house keys (all of them)
Your Sale and Purchase Agreement (SPA) containing the original floor plan
Measuring tape (that can measure the entire floor space of a room; not those flimsy paper IKEA ones!)
Masking tape/label stickers
Marker pen
Note book
Camera
(Optional) A foot stool or small ladder to inspect high-up places
What Should You Inspect?
Now that all your equipment is ready, it is time to get down to business. Here are some of the most important things for you to inspect and pay attention to:
Checkpoint 1: Does The Property Match What Was Promised By The Developer?
Using your measuring tape, measure the actual built-up area of every room. Compare against the floor plan given in your SPA.
Count the number of lighting points, electrical points and sockets. It should be the same number as in the SPA.
Count the number of ceiling hooks for fans or lighting.
Check for broadband point and gas point (if applicable).
Check that all given appliances and fixtures in the bathroom, toilets and kitchen are as per listed in the SPA. Also check:

Sink, taps and toilet bowl are the correct brand
Aircond, fan units, and compressors are the correct brand and model
Fridge, oven, stove top, and cooker hood are the correct brand and model
Shower heads are installed
Kitchen cabinets and counter top are the correct material
Checkpoint 2: Do All The Fixtures Work Properly?
Turn on all the taps and showers, and flush all the toilets to check for water pressure and drainage. Make sure all drainage systems and water holes in bathroom floor and sink, as well as kitchen floor and sink are not blocked.
Check all the bathroom fixtures are complete. For example, do the toilets all have seat covers? Do the shower heads have all the nozzles in place?
Turn on all the appliances and run them for a little while. If it's an aircond, it may take a moment to get cold as it has not been used for a while.
During the defect inspection, some homeowners even deliberately flood their bathrooms and kitchens, or fill the bathtub and leave it there for a few days. This is to check whether the water seeps through to the unit below.
Checkpoint 3: Is The Workmanship Satisfactory?
Check the ceiling and the wall for any cracks, water damage, or bad paint work.
Check on floor tiles, bathroom wall tiles, and kitchen back splash for any misalignment.
Knock every single tile and if you hear any hollow sound, put it on the repair list.
Check all doors, door frames, hinges and knobs to make sure there's no dent, scratch or misalignment, can be properly closed and match their keys. Try a couple of times.
Repeat step above for all the windows.
Make sure the glass on the sliding doors and windows are properly installed and not cracked.
Make sure the vanity mirrors in the bathroom are properly installed and have no cracks.
Check for any trails of dried cement, varnish or paint on any part of the house.
Shake the railing on your balcony to make sure it is properly installed and firm.
What To Do If I Find A Defect?
If you find a defect, put a strip of masking tape or label sticker near it and write the problem on it (example in the image below). Then, take a photo of it.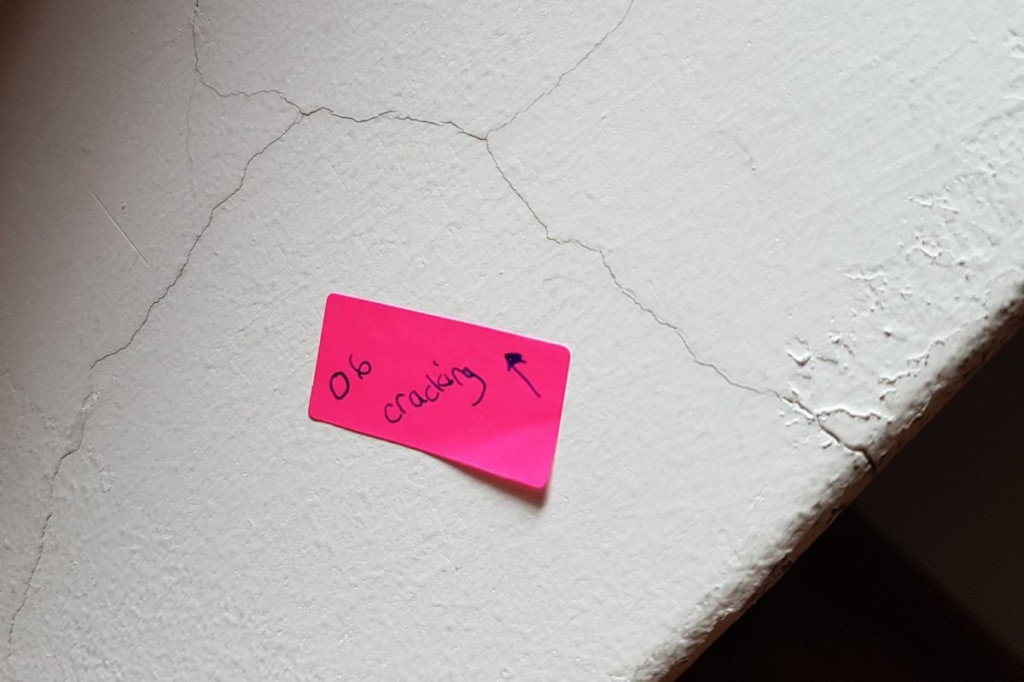 Give that defect a number, example "06" above. In the image above, I used a bright label as it makes it easier for the contractor to find later. You can also use masking tape.
Then. write the same number in your notebook or report form, along with the location. For example: "Kitchen pillar near floor, 06, cracking".
How To Submit Your Defect Report?
The developer will usually supply a form for you to fill in the defects list. Remember to make a copy for yourself (or snap a photo of it) before you hand it over.
You can also write the same list of defects into your notebook. Use the same sequence number that you wrote on the label stickers earlier so it is consistent throughout.
That will also make it easier for the contractor to find the defect and for you to check again in the future.
When you are done, submit the defect report to the developer. If it's a condo, you can usually submit it to the management office.
They will acknowledge receipt of your list. In some cases, a representative from the developer may want to revisit the site and ask you to point out the defects.
What Happens After You Submit The Defect Report?
The developer will have 30 days from the day you submit the form, to make the repairs. Once done, they will contact you to make another inspection.
During the defect liability period, HBA also advises:
"Contact neighbours who have similar difficulties in getting defects rectified. There is power in numbers, and you can share tasks to lighten the load. The main objective is to convince the developer that you are serious in getting the defects rectified properly."
Now You Are Ready To Renovate!
After you have received the keys to your new property, you actually have 24 months to report any defects during the defect liability period.
However, our advice is: don't delay. You will want to make sure every defect has been fixed before you move it.
Expect to spend several hours to do a thorough check of your new property, and mark out any defects clearly.
With a bit of effort (and detailed scrutiny), you will soon have the house in tip top condition and ready for interior design and renovation.
This article originally appeared on RecomN Living.
Learn More About How HDA Malaysia Can Help You During the Defect Liability Period, Freehold VS Leasehold Properties, Individual and Strata Titles, and The Differences Between SoHo, SoFo And SoVo. Otherwise Check Out Other PropertyGuru Guides For More Useful Information!
Disclaimer: The information is provided for general information only. PropertyGuru International (Malaysia) Sdn Bhd makes no representations or warranties in relation to the information, including but not limited to any representation or warranty as to the fitness for any particular purpose of the information to the fullest extent permitted by law. While every effort has been made to ensure that the information provided in this article is accurate, reliable, and complete as of the time of writing, the information provided in this article should not be relied upon to make any financial, investment, real estate or legal decisions. Additionally, the information should not substitute advice from a trained professional who can take into account your personal facts and circumstances, and we accept no liability if you use the information to form decisions.