There's nothing worse than waking up with an overhangover. Yet some parts of Malaysia's property market have been suffering from this unwelcome affliction for years.
A property overhang reflects an area of the market where the supply of available properties is higher than demand. This can occur for any number of reasons, from changing economic conditions to a simple mismatch in expected demand for the type of property unit supplied.
It's time to tackle the empty units of Malaysia's property overhang, and explore what, why, how, and crucially — where — these unsold, completed properties might be.
Understanding The Property Overhang
A property overhang is fundamentally a question of mismatched supply and demand. That can be down to developer strategies impacting supply, or simple market economics suppressing demand. What this means is empty units and vacant property often tend to overlap in key areas.
PropertyGuru Tip
Overhang is defined as residential units which have received Certificate of Completion and Compliance (CCC) but remained unsold for more than 9 months after launch.
Let's take the case of changing economic conditions. If a particular demographic expected to be buying property is suddenly impacted by issues such as wage concerns, their desire to purchase is reduced.
That means the type of property that group might have been expected to buy suddenly becomes less of a hot commodity and more of a challenging market proposition.
The truth is sometimes developers play a part in this unfortunate overhang scenario. If developers don't accurately assess or predict local market conditions, then they may ultimately end up oversupplying the market.
In the case of oversupply, a smart property buyer might even be able to find a great deal.
You can try and negotiate for reduced prices — sweeteners like freebies or discounts are more likely to happen in a 'buyer's market' where there's lots of vacant property in a development. Looking out for a sale unit could offer up some really sweet deals.
Despite a relatively buoyant market in early 2020, Malaysia still has a significant
property overhang
, according to the National Property Information Centre (NAPIC).
The number of residential overhang stands at 31,661 units, with a total valuation of RM20.03 billion as of the first half of 2020 (H1 2020).
Residential Property Overhang In Malaysia

Number of Overhang Units

Total Value

H1 2020

31,661

RM20.03 billion

H2 2019

30,664

RM18.82 billion
COVID-19 has undoubtedly created challenges in the property market to start 2020. Yet this still represents a potentially unwelcome increase in the total number of units unsold.
Campaigns such as the
Home Ownership Campaign
are designed to tackle this challenge, creating welcome incentives to hopeful home buyers in Malaysia.
Exploring The Overhang In Detail
With 31,661 residential overhang units in Malaysia's property market in H1 2020, you're probably wondering just where those empty units might be? Let's take a closer look at house types in the overhang.
| | |
| --- | --- |
| House type | Share of total residential overhang |
| High-rise units | 53.2% |
| Terraced houses | 29.0% |
| Semi-detached and detached | 12.4% |
| Low-cost homes | 1.6% |
| Other | 3.8% |
As you can see, high-rise units make up more than half of the residential overhang in Malaysia today.
Serviced apartments are another area of the market with a notable overhang. These units, classified in their own category beyond residential, had an overhang of 21,683 unsold, completed properties with a total value of RM18.64 billion in H1 2020.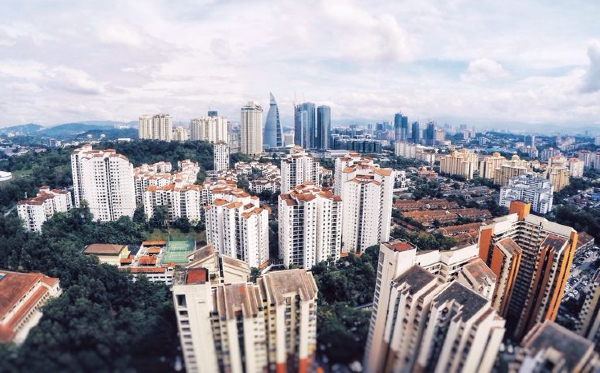 The correlation with price is also an important part of the property overhang story. It's worth looking at how price impacts the status of overhang units in Malaysia.
*Note: data from Valuation and Property Services Department's Unsold Property Enquiry System Malaysia
It seems clear that luxurious high-rise and serviced apartments definitely contribute to the overhang.
What's also interesting is one-fifth of overhang properties are in the RM500,001 to RM700,000 range, and one-quarter in the RM300,001 to RM500,000 range, both segments of the market which are broadly seen as quite accessible.
Meanwhile, almost one-third (31.7%) are in the RM300,000 and below segment.
It's clear that while luxury properties represent some of the overhang, supply outweighs demand in a number of other key areas of the property market.
What's The State Of Play In Location?
Property is obviously a complex picture, so it's hard to draw out clear conclusions on where the overhang might be geographically.
However, looking at the top five areas with the most overhang properties, compared against a state's total share of residential properties across Malaysia's entire property stock, is a good way to look.
With a 6,166 of residential overhang units, it's clear that
Johor
has the biggest property overhang in Malaysia as of H1 2020.
NAPIC also revealed that Johor is home to 16,000 of the total 21,683 serviced apartments unsold in Malaysia, with over a third (34.3%) of these valued over RM1mil.
If you're looking for a property in Johor right now, you could be on your way to some great property deals!
Selangor
might be second on our list for overhang units, but as the state with more than a quarter of Malaysia's total property stock, it's perhaps not surprising that it comes high in the list.
Meanwhile,
Perak
,
Penang
, and
Kuala Lumpur
all have shares of overhang units relatively lower than their share of total residential units in Malaysia.
Property overhangs are ultimately a case of demand and supply. Markets tend to balance out in the long run, however, with these mismatches often bridged as property prices adjust, or new sellers enter particular market segments.
The important thing is Malaysia has millions of amazing properties to choose from. And if you're here with us on PropertyGuru, you're already looking in the right place.
Looking for a great property deal? Check out our guide to the Home Ownership Campaign to see what you can find, or find out whether it is a good time to buy a property for own stay and investment.
Disclaimer: The information is provided for general information only. PropertyGuru International (Malaysia) Sdn Bhd makes no representations or warranties in relation to the information, including but not limited to any representation or warranty as to the fitness for any particular purpose of the information to the fullest extent permitted by law. While every effort has been made to ensure that the information provided in this article is accurate, reliable, and complete as of the time of writing, the information provided in this article should not be relied upon to make any financial, investment, real estate or legal decisions. Additionally, the information should not substitute advice from a trained professional who can take into account your personal facts and circumstances, and we accept no liability if you use the information to form decisions.