If you're moving to Singapore on a long-term basis, be it for work or higher studies, one of your biggest priorities will be finding a place to live.
Now, there are several factors to consider before you begin the process of house-hunting: your budget, lifestyle, needs and how long you're staying.
What's more, there are many different housing types for you to consider, ranging from condominiums and apartments, to landed properties and serviced flats.
That said, looking for a home in Singapore is not as daunting as it seems.
As a tenant, there are three types of housing in Singapore you're allowed to rent:
An HDB flat

An executive condominium

Private property
Depending on how much money you're willing to part with, these are your main options when it comes to finding a place for rent in Singapore.
But first, there are actually a few things you need to make sure of…
Now, before you can pack your bags and start flying off in search of your dream rental unit, there are a number of criteria you must meet.
In order to be eligible to rent a home in Singapore as a foreigner, you must be one of the following:
A non-citizen who is legally eligible to live, work or study in Singapore. Also, you'd need to be a holder of an Employment Pass, S-Pass, Student Permit, Dependent Pass or Long Term Visit Pass with six months validity remaining on the visa.

A Work Permit holder of Malaysian nationality working in the construction or marine industries.
So long as you fit these regulations, you can begin your property hunt in Singapore.
How To Find A House Or Room To Rent In Singapore:
1) Do Your Research
This one is a no-brainer. If you land in Singapore having done absolutely no research on where you want to live, you'll just be landing yourself in unnecessary problems.
Educate yourself on the rental process in Singapore as well as the neighbourhoods that might be most suitable for your desired lifestyle and, more importantly, your budget.

2) Get Your Priorities In Order
When selecting an area to settle in, think of what's most important. Is it necessary to live in the vicinity of a wide variety of shopping and lifestyle destinations?
Should you live in a place within easy distance of your workplace? Are you an outgoing person who wants to live in a neighbourhood that comes alive at night?
Or are you someone who values quiet and personal space? Once you know what type of vibe you're looking to live in, you'll be able to narrow down the options.

3) Seek Advice
If you're new to Singapore and know very little about the property market and rental procedure, you'll benefit greatly from speaking with people who actually live there.
There are many online forums dedicated to solving such queries, so you'll definitely find answers to some of your questions there.
Or, if you have colleagues, friends or family who have lived in Singapore before or are familiar with the nation, ask them for their input.
4) Schedule Some Viewings
Even if you're time-strapped and don't have the luxury of going down to viewing each and every property you fancy, that doesn't mean you should discount house visits altogether.
Shortlist 3 to 4 places you're most keen on, and visit them in person.
Keep in mind that photographs of properties may be deceiving, especially if they've been digitally altered to look better.
Important Documents Needed For Renting A House In Singapore
1) The Letter Of Intent
After having house-hunted extensively, you finally zero in on the residence of your dreams. However, it's not as simple as proclaiming your love for the place and then receiving the keys.
After all, you might not be the only party interested in the house. But you can indicate your love for your new home-to-be by submitting a letter of intent.
While you're not legally obligated to hand in a letter of intent (which is a formal document signifying your interest in the property), it does send a clear signal to your property agent or landlord that you're serious about considering the house as a long-term residence.
Along with the letter of intent, you can also provide a sum of money known as a 'good faith' or 'early' deposit.
This amount is usually equal to one or two months' worth of rent.
If you do end up signing the tenancy agreement, this deposit will be counted as rent for the first few months, or will be converted into the security deposit, which will be returned to you only after the lease has ended.
If, however, you do not end up signing a tenancy agreement, the deposit will be given back to you.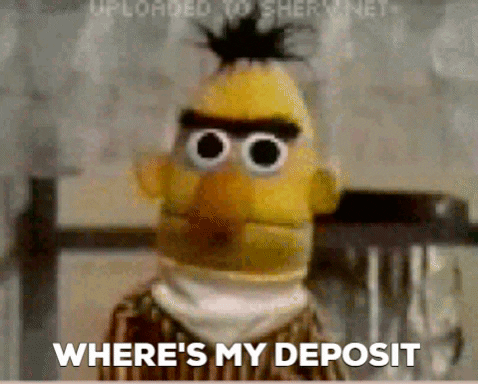 Apart from this, you'll also be required to pay a stamp duty on the agreement to the government, particularly the Inland Revenue Authority of Singapore (IRAS).
This amount is calculated based on the monthly rent and duration of lease, and is to be paid before the tenancy agreement is signed between the tenant and landlord.
2) The Tenancy Agreement
The tenancy agreement
signed between landlord/agent and tenant is a formal and legally binding document that lays out the terms and conditions for the duration of the tenancy.
It contains details such as:
Names of all parties involved

Address of the property

Start and end dates of the tenancy

Monthly rental amount and acceptable payment methods

Fees pertaining to utilities and other miscellaneous categories

Inventory of all assets existing in the house at the time of signing the agreement
The Agreement is also made up of specific clauses, which may differ from document to document.
Common ones include the diplomatic clause, which allows the tenant to break the agreement without being penalised for it (in such cases as transference to another country for work).
And the minor repair clauses, which stipulates that the landlord must pay for damages arising from wear and tear.
Apart from these two documents, also be sure to keep copies of your passport and long-term visa handy.
If you intend to work in a Singapore-based company or study in a Singaporean university, you will be given a long-term visa which enables you to reside in the country for a specific number of years.
The visa is usually valid for the length of your studies, or work assignment.
Neighbourhoods Where You Can Rent Houses In Singapore:
1) Core Central Region (CCR)

Also known as the "Core Central Region" (CCR), t
he homes in Districts 9, 10, and 11 are usually reserved for those with deep pockets and the willingness to splurge on luxurious homes.
There are condominiums and apartments for rent in this part of Singapore, but they usually come at a steep price.
If your place or work is situated in the Central Business District (CBD), and you want to enjoy access to a wide variety of retail and lifestyle options as well as a sizeable
expat
population, you should look at homes for rent in one of the most sought-after spots in town.
2) Rest of Central Region (RCR)
If living in the Core Central Region is not feasible for you, finding a house to rent in the neighbouring areas will be the next best thing.
You still enjoy all the benefits of living in the CBD – however, rental rates tend to be slightly more pocket-friendly.
There are plenty of condominiums, private residences and HDB flats, which are ideal for young people who have started working recently, as well as some expats, making for a lively and diverse mix of people.
3) Outside Central Region (OCR)
Perhaps you're one of those people who prefers to stay in a less hectic neighbourhood, far away from the hustle and bustle of a city.
If so, then renting a property in suburban Singapore will be for you.
There are several advantages: the rent is far more economical compared to that of the central areas, and housing types in the OCR include HDB flats, executive condominiums and landed properties.
Recreational and lifestyle facilities such as malls, gyms, libraries and supermarkets are also available. However, sometimes these areas can be located far away from public transit.
So if you're looking in the OCR and need easy access to bus stops and MRT stations, be sure to communicate to your broker or do your due diligence in checking out the distance from the place to the nearest public transport option online.
Renting in Singapore requires a good deal of research, but the work will help you find an ideal location.
From hunting for a suitable house for rent, to signing off on the necessary paperwork, it's a long yet fulfilling journey.