Location, location, location! This simple phrase remains one of the most recognisable mantras in real estate, and it actually means a lot more than just a property's street address.
The importance of location is rooted in its timelessness. You can make changes to a property, but you can't change its location. Over time, the value of its location will likely remain intact. Whether you're looking for a property for investment or as your personal residence, experts advise that location factors should always be at the forefront of your mind.
Master Community Developer, Sunway Property has an amazing track record in developing properties that are all about location, location, location!
Sunway is a veteran of the master-planned city approach in Malaysia. It has established thriving communities like Sunway City Kuala Lumpur, Sunway City Ipoh, Sunway Penang, Sunway City Iskandar Puteri, and Sunway Velocity. 
Sunway Velocity TWO is an 8.5-acre mixed-development project by Sunway Property. Located within the Sunway Velocity masterplan, Sunway Velocity TWO ticks all the location boxes and more!
Make KL's Top Integrated City Your Home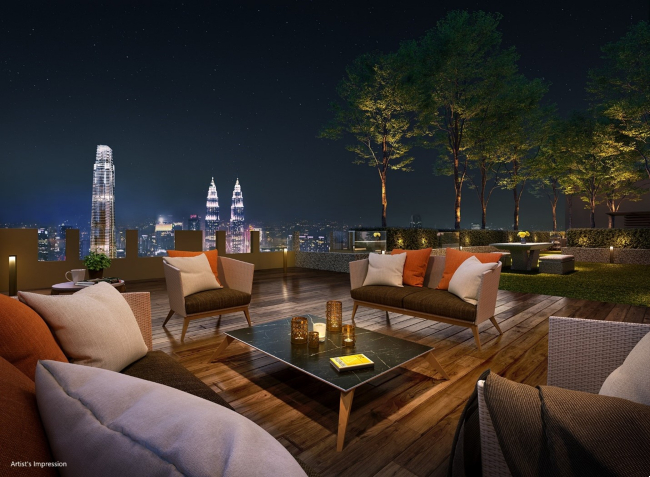 While prohibitive pricing and congestion have reduced the appeal of properties in the heart of Kuala Lumpur, there has been an increase in demand for adjacent 'fringe' or feeder suburbs over the years thanks to a boom in infrastructure and connectivity in these areas.
Strategically located on the border of Kuala Lumpur and Selangor, Cheras is one of these lucky suburbs.
Cheras was one of the top ten most searched areas for Malaysian home buyers in 2019 and was the sixth most popular property hotspot for Malaysians in the Malaysian Consumer Sentiment H1 2020 survey. Indeed, condominium prices in this area have shown a robust compound annual growth rate of 6.6% over the past couple of years.
This demand doesn't seem to be slowing down. Industry expert Siva Shanker, CEO of Rahim & Co. has predicted that Cheras will continue to attract more demand well into the future.
Located within the booming focal point of Cheras, just 3.8 kilometres away from Kuala Lumpur City Centre, Sunway Velocity TWO fits right in with market demand.
You Can't Go Wrong With A Transit-Oriented Development
To maximise its strategic position at the fringe of the Kuala Lumpur City Centre, Sunway Velocity TWO has been developed with connectivity in mind.
Awarded with The Proximity Award, Best Integrated Development (Excellence) in year 2020, the development is positioned with easy access to various major highways, including Jalan Tun Razak, the SMART Tunnel, the New Pantai Expressway, the KL-Seremban Highway, the Jalan Chan Sow Lin Interchange and the Besraya Expressway.
If you prefer public transport, Sunway Velocity TWO is easily linked to the LRT, MRT Line 1, and MRT Line 2 networks through three MRT stations and 2 LRT stations at Cochrane, Chan Sow Lin, and Maluri. The best part is that all of these connections are via safe, covered, and well-lit linked bridges.
Just one stop away on the MRT Line 1 is the TRX Station within Kuala Lumpur's new financial hub, where investment and career opportunities abound. One more stop along the same line brings you to the Bukit Bintang Station where you can shop till you drop or party the night away!
Be it via public or private transport, rest assured that you can move in and out of the city effortlessly, cutting down transit time and hassle, while leaving you more time to enjoy from the comforts of home. 
Masterplan: At Home In Sunway Velocity
Alongside high connectivity, experts indicate that a location with high walkability, with most amenities within walking distance, will translate to higher capital growth.
As part of the broader Sunway Velocity masterplan, Sunway Velocity TWO residents can reap the benefits of a self-contained, meticulously planned development, where everything is practically a five-minute walk away.
Doorstep access to the 1.4 mil sq ft, fully tenanted Sunway Velocity Mall means that all your retail and dining needs will be well taken care of. This lifestyle mall features an alfresco dining enclave which includes Nanjing Street, Kuala Lumpur's largest concentration of authentic Chinese hotpot options.
Sunway's renowned medical, education, and hospitality brands are also featured in the Sunway Velocity masterplan. You'll be steps away from Sunway Medical Centre Velocity, Sunway College @ Velocity, and Sunway Velocity Hotel!
Acting as Sunway Velocity's green lungs, a lush two-acre central park offers a comforting patch of tranquillity amidst the hustle and bustle of the surrounding cityscape.
Sunway Velocity has been developed in the spirit of Sunway's unique Build-Own-Operate model, where Sunway owns and operates more than 50% of the development, which provides stability to ensure long-term investment returns.
Practical And Functional For Maximum Flexibility
The residential towers at Sunway Velocity TWO offer the best in modern condominium living. Residential Tower C has 48 storeys of residences with a mere 12 units per floor serviced by five lifts.
Units range from a cosy 678 sq ft to a generous 915 sq ft, with larger units equipped with a dual-key option for flexible living arrangements. All units come with up to two parking bays as well.
In addition to that, the development has three dedicated floors of facilities to cater to all walks of life. One can easily embrace a healthy lifestyle with outdoor facilities on the ground floor, including a jogging path, fitness station, basketball hoop, and private park.
A gracefully curving infinity pool is located on Level 8, alongside a kids' water play area and sun deck. Other open-air facilities on this floor include a BBQ deck, playground, and outdoor lounge. Here, you can also find private rooms for yoga and games, an indoor gym, exclusive kitchen, and badminton court cum multipurpose hall.
The rooftop is perfect for entertaining too! Impress your guests with breathtaking views of the glittering Kuala Lumpur City Skyline at the Sky Terrace, Sky Garden, or Rooftop BBQ on the 48th floor.
Sunway Velocity TWO even has a co-working space to cater to the 'new normal' work-from-home trend!
A Harmonious Blend Of Location And Livability
Located within the property hotspot of Cheras, self-contained in the Sunway Velocity masterplan, and well connected to the Kuala Lumpur City Centre, Sunway Velocity TWO fulfils the rare trifecta of a perfectly positioned residence, while delivering a complete condominium lifestyle experience.
Whether you're looking for an investment property or one for your own use, Sunway Velocity TWO is guaranteed to deliver manifold returns on your investment for years to come.
In conjunction with Sunway Property's 'Beauty of City Living' campaign, buyers can start their homeownership journey at Sunway Velocity TWO with just RM500. In addition to that, the developer is also offering a Voluntary Exit Plan, moratorium up to 12 months, a guaranteed loan with attractive rates and the units fitted with Panasonic nanoe™ X air purification technology to provide you a cleaner and safer air quality at home! Terms & conditions apply.
With the final residential phase now open for preview, this is your last chance to secure a home in Sunway Velocity TWO. Don't miss out on this golden opportunity! For more information, click here to experience the Virtual Tour of the Show Units and a 360-degree aerial view, or call 017-964 0700 to make your viewing appointment to visit the Sunway Velocity TWO Sales Gallery.