By Gary Chua
13th July 2016, Bank Negara Malaysia (BNM) announced 25 basis point dropped in overnight policy rate (OPR) in their bi-monthly Monetary Policy Meeting. Most analysts have the opinion that OPR should increase because of the impending up-trend of interest rates in the United States of America.
At the end of 2015 and early 2016, I have been sharing my views with my members that OPR should be reduced in Q3 or Q4 2016 and it has materialized.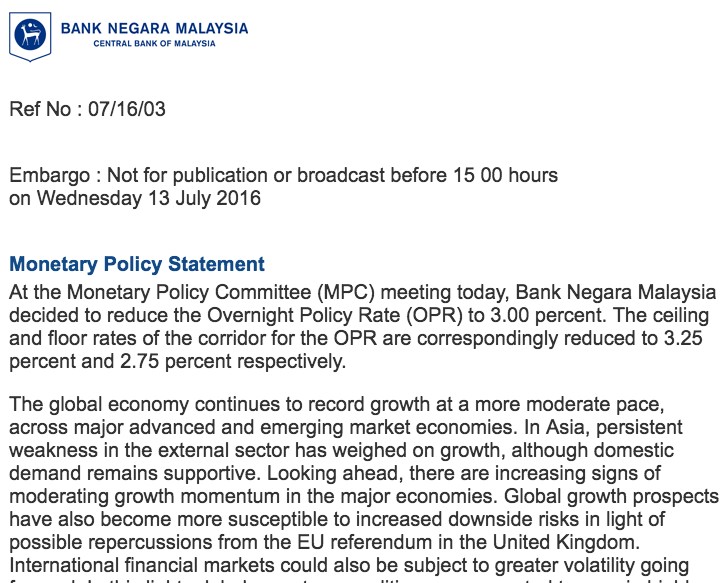 Overnight Policy Rate (OPR)
OPR is an interest rate/profit rate at which a bank lends to/receives from an investment with another bank. OPR is determined by Bank Negara Malaysia in the Monetary Policy Committee Meeting held throughout the year.
In Malaysia, changes in the OPR trigger a chain of events that affect the base rate (BR), base lending rate (BLR), short-term interest rates, fixed deposit rate, foreign exchange rates, long-term interest rates, the amount of money and credit, and, ultimately, a range of economic variables, including employment, output, and prices of goods and services which is the micro and macro factors on the economic.
OPR has been trending at as low as 2% during the global financial crisis in 2009 and as high as at 3.5% in 2006-2008. Below is the OPR trend for the past 10 years. Does this spark the start of lower interest rates era or just merely a one-off change? Before we discuss this, let us understand more on the impact of the dropped of OPR.
Impact of OPR Dropped
It has a direct influence on Base Rate (BR) & Base Lending Rate (BLR). When OPR is reduced, it is stated in the Reference Rate Framework that BR & BLR has to reduce in tandem in view of the OPR changes. This means the reduction of OPR will directly reduce our effective lending rate (ELR) on the existing loan that is using this floating rate. In other words, we are now charged with a cheaper interest rate. Below attached is the latest BLR and BR and their previous BLR and BR rate:
Lowering down OPR reduces the ELR for existing loan and this means lower instalment. This lower installment will lead to better affordability for the consumers. In banks, affordability is measured by using debt service ratio (DSR) and DSR will reduce in view of lower interest rate. This means that now your affordability has increased and your chances of getting your loan approved improves!
However, in my opinion, this may not be good news for those who have yet to obtain a housing loan to finance their dream home. I foresee most banks will be adjusting their spread with their new BR loan offered to be similar or same ELR of 4.40% to 5.10%. This means now the banks stand to enjoy a better profit margin on their housing loan business.
Fixed Deposit (FD) Rate usually follows OPR and since the reduction of the OPR, we have seen banks' FD rates lowered. This lower FD rate may cause a consumer to look for other alternative investment tools that give a better return. The consumer who doesn't take such actions will be impacted by the drop in deposit interest rates in view that price of goods and services will continue to soar due to inflationary pressure especially when the inflation rate is higher than 3%.
When instalment reduces, this means we have additional cash on hand every month to spend on other needs and wants. Our spending power will increase and when spending power increases, this will potentially boost our economy.
In most instances, OPR in other countries is normally used as the monetary policy tools to strengthen a country's currency value. However, as we are experiencing a drop in OPR, this normally would weaken Ringgit against other currencies in the world.
Must Banks Reduce My Housing Loan Instalment?
In view of the reduction of BR and BLR by 14bps to 25bps (varies by bank) on your existing floating rate housing loan, all banks are required to make the necessary adjustment to your monthly instalment, not to make changes on your existing loan tenure. This is clearly stipulated in the BNM guidelines.
Snapshot as attached below. Even though by default banks will be lowering your monthly instalment, they will normally still provide the options for you to select whether you would like to shorten your loan tenure instead of monthly instalment.
Conclusion
OPR reduction is certainly good news to all. Given that an interest rates reduction should weaken our Ringgit, but we experienced otherwise where Ringgit rallied against other major currencies right after the OPR reduction is announced.
Bursa rebounded from negative territory as well. This shows that most of the people are delighted with the change. Of course, for an ordinary homeowner like you and me, we are certainly pleased with the fact that our monthly instalment burden is reduced, which also means that we will have more money to spend!
Last but not least, I do foresee that BNM may further adjust statutory reserve requirements towards quarter 4 in 2016 and may possibly reduce OPR again in quarter 1 2017. Let's see.
This article is contributed by SmartFinancing