Why is rental a burning issue now?
It's the same old argument that we have been having for the past years. The sighing and complaints of prices of properties, which are off the roof. This has become alarming to most Malaysians who just can't afford a house to be called a home, especially in places like Kuala Lumpur, the nation's capital city, the pulse of the country where many have migrated to work and settle down.
If buying is a no go, can rent solve the dilemma of unattainable properties in Kuala Lumpur?
The country's recent tabling of Budget 2018's has shed a light upon the issue as the federal government is taking note that rentals are the next best thing in solving housing unaffordability in the country. This included 50% tax exemption for rental income RM2,000 and below, per-residential home per month.
Tell me as it is, no holding back!
But can rental be the salvation of a dire unaffordability issue? The rule of thumb when renting is to rent a minimum of 30% of your take-home salary. But let's digest the reality in considering the feasibility of renting 30% from one's salary if he or she is living in the heart of Kuala Lumpur.
The monthly expenditure in the city for a 4-person family could cost an average of RM7,162.65, which exclude rental. Meanwhile, the monthly expenditure for an individual is RM2,002.55, which also exclude rental. And the average income of folks in the city after deductions is RM4,170.
That is pretty staggering amount especially for mid to low income families to fork out expenditure and subsistence that city living requires. It is no wonder why Kuala Lumpur is ranked 9th most expensive city in Asia with price index of 88, behind the likes of Beijing, Taipei and Bangkok.
How did we come to this point where the median house price is 4.4 times median annual household income?
Kuala Lumpur is blessed with ample of residential and mixed developments. In fact, there is an overhang of properties worth approximated RM35.5 billion. These unsold properties also included 130,690 residential properties with the value over RM20 billion. But only a small fraction of these developments is in the affordability bracket.
Average rental for a one-bedroom apartment in the city is RM2,271.15. Meanwhile, the average rental of a 3-bedroom apartment is RM4,244.06. But we are very aware that central locations like KLCC, Bangsar and even Ampang Hilir could skyrocket to tens of thousands of ringgit due to prime location and extravagant facilities.
If you are thinking of saving up by ditching the car and start commuting by train, then think again. The closer the residential or mixed complexes within the city centre are to any popular form of public transportations like LRT or MRT, the higher the rental gets.
There will be an unprecedented hike between 10% to 15%. In fact, the capital appreciation is said to be the highest for properties within a 500-metre radius of the train stations. Look at areas like KLCC, Jalan Jelatek and service apartments around Jalan Bukit Bintang. Rental could easily start at RM2.56 psf.
'Outsourcing' rental homes
What are other optional areas that can compensate Kuala Lumpur's expensive rental properties? There is an abundance of areas that could be the next best thing in terms of renting while saving up for a home.  Here are some suggestions for areas that might be feasible in replacing Kuala Lumpur as home.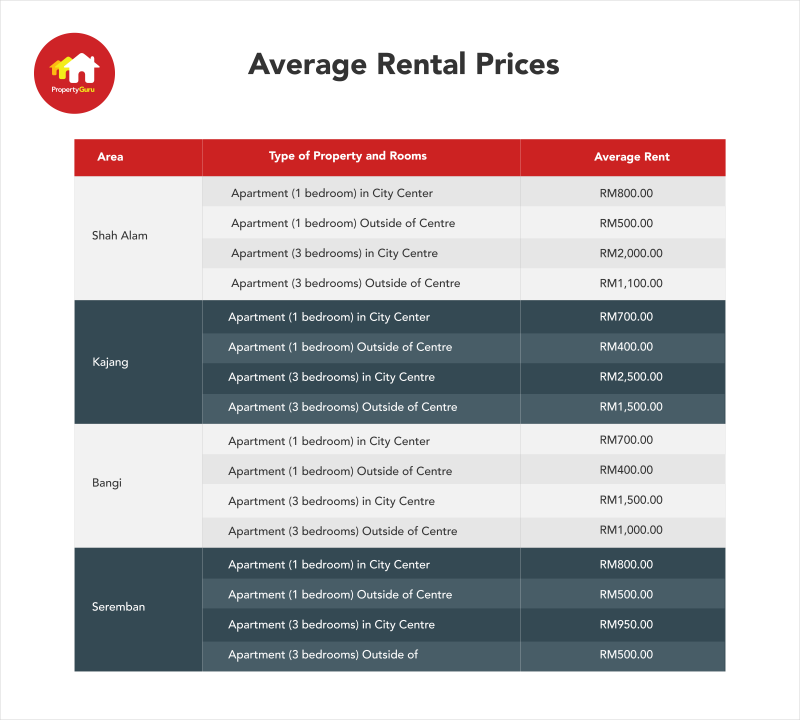 Source: Numbeo
Bear in mind that most of these areas are within or more than 30 km radius from the city centre along with its transportation conveniences. The stated mode of transportations are the ones that are currently active and in use. MRT 2 & 3, as well as LRT 3, are not included due to its later date of completion.
Now, would it make the move worth it taking time, cost of petrol and toll into consideration?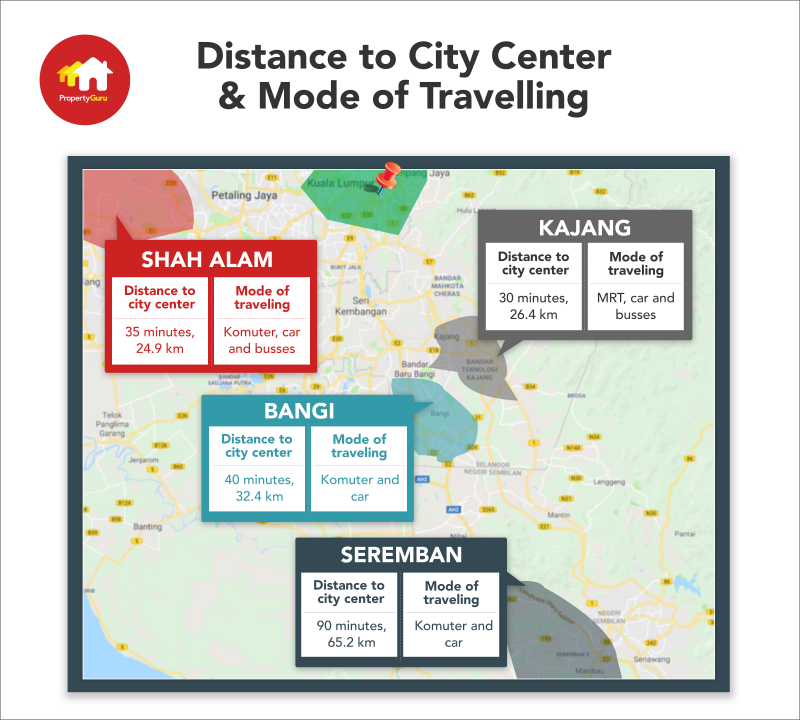 Source: Google Maps
So, what's next?
It is highly speculated that 2018 will see an increase of people moving outbound of Kuala Lumpur in search of cheaper properties, and this includes renters. With the rise of MRT 2 and 3 as well as LRT 3 penetrating through distanced suburban areas, buyers and renters might sweat lesser than before.
These train alignments are also projected to have multi-purpose facilities, which include Park and Ride and Feeder Busses that will ease commuters' hardship.
To survive the rising cost of living, residing in somewhat remote suburban areas might slightly mend the hole in our pockets.
The government, on the other hand, need to start a regulatory mechanism in controlling the rental market that seems to be a free market, dictated conveniently by investors and property owners.
Giving tax rebates as encouragement is hardly enough to make residential property owners to lower down the rents. Renters are still left out in the cold without any protection or tax relief from the current system and even Budget 2018.
If rental is the best next thing or a short-term solution to housing unaffordability, then there are many issues that need to be ironed out immediately to mitigate the rental market.
Hence, the government needs to get down and dirty in making renting within the city centre as a viable option once again among the people, especially for folks from both B40 and M40 or at risk of having KL's city centre high and dry from local tenants. 
Featured image sourced from The Star 
For the latest property news, trends, resources and expert opinions, visit our Property News section. Home buyers, sellers or property renters looking for Malaysian Properties, may like to visit the New Launches or Project Reviews page.