They say that the bedroom makes you, you. Meaning, your personality will be reflected on how you decorate or make it to be. If you have bed-sheets that are made of cartoon characters or red/white checkered sheets that you bought from IKEA, well the time has come to revamp it!
Here are some tips to sass it up! Remember, sexy room means sexy you!
"You got to be kidding with the Minions bed sheet?" If you are guilty of having cartoons on you bed sheet especially when you're a grown adult, it is time to burn it down to the ground. Sass it up with a matte satin or silk sheet! Red would be inviting while shades of champagne gold to grey would be calming. Imagine the attention you would be getting from super plush pillows too! Heck, throw in some canopy bed drapes to make it sexier!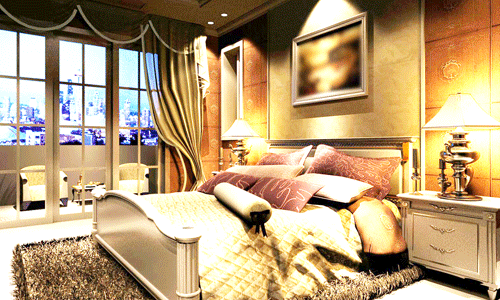 Many would get their lights wrong! Avoid using those fluorescent lights. They would only be menacing to your eyes, and guests. Best bit of advice, get warm colored shades. It would be enough to lit the room up and dim it low if you are in the mood, to sleep! Proper and suitable lighting like this would help to perk your mood up after a good night rest.
Get a Scarlett O'Hara Inspired Curtains
Your bedroom is your haven, as it has the least traffic among all the spaces in your house. This is one place where you can unleash your inner you! Hence, the curtains are the eyes to your soul, metaphorically speaking. Splash the cash on silk and velvet curtains, add some avant-garde touch by getting swags, valances and even window scarves. You can even go Scarlett O'Hara by ripping off a good quality curtain and draped it into a dress!
Remember, the thicker the curtains are, the better. This ensures privacy from those wondering eyes out there. Plus, it gives an added plus point in getting a good night sleep by limiting the lights from penetrating in.
Two major sins when it comes to furnishing a bedroom. Firstly, do not over furnish it with unnecessary things. You don't need two sofas or double vanity sets in your bedroom. There is no need to clutter your room. You only need one statement piece, which would be your bed. Complement it with sleek and understated furniture that will bring a touch of class.
Remember, a cluttered bedroom means a cluttered you!
Secondly, if you have a foldable wardrobe in your bedroom, bring it down right this instance! Those things are downright ugly and flimsy. Extremely not sexy! Do you really believe that those plastics covers and thin steel rods would hold up your clothes for good? Invest in good wardrobe as it is a staple in your bedroom! Splurge a little, will you?
Your wall's hues are quintessential. It is the biggest portion of your bedroom and the hues must be right! Firstly, stick to one. You don't need to get all Andy Warhol in your bedroom. Best bit of advice, pick natural and calming colours that would soothe your mood, not triggering anxiety attack. Skip the orange, fluorescent pink or even dull colours like dark brown or muddy green.
Never ever get matching wallpaper and bed-sheets. Remember, you need your statement piece, i.e. your bed to stand out, not blending in with the background. Get hues that will complement your statement piece and the rest of the furniture easily!
For the latest property news, trends, resources and expert opinions, visit our Property News section. Home buyers, sellers or property renters looking for Malaysian Properties, may like to visit the New Launches or Project Reviews page.