By Radin Ghazali
Fretting over the price of homes around Klang Valley? Most buyers are pretty much exhausted in the hunt for an affordable residential property to be called a home. But really, what is affordability when it comes to a mass consumer market?
According to Bank Negara Malaysia, RM165,060 is considered as affordable housing price for the median household of the majority Malaysians, which is RM4,585 per month. Sadly, there is a shortage of properties below RM250,000 especially around city centres, in this instance, Klang Valley. In fact, there is only 21% of new developments in 2014 are priced below RM250,000 while the market saw an upsurge of residential projects priced at RM500,000 and above that eventually led to property glut in the recent years.
Hence, a new definition of affordability is needed. The National Housing Council has recently redefined affordable homes as those below or around RM300,000. Given the relevance of the socioeconomic landscape and what are available in the market, buyers are driven into getting homes that are slightly above the affordable brackets. But given the incentives and rebates thrown in by developers these days, such properties are now attainable and affordable. Chins up and let's keep a positive mind. Here are among the affordable homes around Klang Valley to look out for:
Rumah Selangorku CyberSouth, Dengkil
Rumah Selangorku CyberSouth is in the midst of its third phase launch. The entire development spans over 417 acres and is mold to become the perfect township. The starting price is said to be an estimated RM100,000 for units at 750 sq ft, RM200,000 for those at 850 sq ft. while the maximum price would reach an estimated RM250,000 for units at 950 sq ft. This extremely affordable development is under the helm of MCT, which has a handful of projects around Cyberjaya and Sepang. In effort to make buying homes feasible, MCT has combined affordable homes with its medium to high end properties here.
Another affordable mixed project in Cyberjaya that is catching the attention of home seekers. Tamarind Suites is one of the most exciting and unorthodox commercial developments emerging in Cyberjaya. Spearheaded by the award winning developer Tujuan Gemilang, it aims to defy the traditional boundary of a SoFo unit through a more dynamic and practical layout. The project offers you two different types of unit designs; studio or duplex. At present, all of its smaller studio suites (403 sq ft – 602 sq ft) have been fully sold. The only remaining are the larger loft duplexes, which have built-up areas ranging from 669 sq. ft. – 715 sq. ft. Price starts at RM280,000 onwards. Despite small in sizes, Tamarind Suites proves to be a pocket friendly homes especially for those on a tight budget.
An interesting property located along the busy roads of MRR2. A strategic location by far as Liberty Arc at Ampang Ukay is extremely near to the main city center. It is currently in its phase 1 with three towers of studio-only apartment that will nestle over a 6.5-acre land in Ulu Klang. Built by EcoFirst Consolidated Berhad that comes with a vast list of commercial and residential experiences, the arc will have 1,632 units have built-ups of 450-sq ft across the board. Price starts from RM299,000. Liberty Arc is considered as an affordable property but there is a price to pay; you will get smaller layouts!
Developed on 2.78 acres of 99-year leasehold land in Sentul, Sky Awani Residence 2 follows the success of its RUMAWIP predecessor project by Sky World Development Sdn Bhd, named Sky Awani Residence – that has officially been sold out in early 2016. And since it's a RUMAWIP (Rumah Mampu Milik Wilayah Persekutuan scheme, which is an initiative by the state government in collaboration with property developers as part of their CSR programme that offers affordable residential properties), all units are priced at RM300,000 max each, which translates to RM375 psf. A should have development in your house hunting list as the development is strategically located in busy Sentul.
Dream City is like no other residential project in Selangor. Nestled in the heart of Seri Kembangan, the project does not only span over seven acres of land but it is also accompanied by a 51-acre deep-water lake. With seven towers and 90,000 sq ft of outdoor facilities called Sky Park, Dream City still has a reasonable price tag of RM636 psf for layouts ranging from one-bedroom units of 550 sq ft to a 2,560 sq ft penthouse. Selling price starts at RM330,000 with all main amenities are a drive away!
The Linq Kinrara Uptown, Seri Kembangan
Another Seri Kembangan project entering the must have in your house hunting list. The Linq Kinrara Uptown is a new condominium project to be developed by Gabungan AQRS Berhad on 5.08 acres of leasehold land in Bandar Putra Permai, Seri Kembangan. More specifically, this property will be built in Kinrara Uptown, an area that spans 30 acres of Seksyen 7 Lestari Perdana land. A total of 684 units are being offered for The Linq in five different layouts spread out between two residential blocks, Tower A at 29 storeys and Tower B at 33 storeys. The built-ups start from a 1+1 room, 1 bathroom at 650 sq ft up till a 3 rooms, 2 bathrooms unit at 1,260 sq ft. The average price per square foot is around RM550, which translates to RM357,500 for the smallest built-up. Just imagine Seri Kembangan's prospects in terms of location and growth for the future. This could be a great catch!
United Point Residence, Kepong
Located on the south side of a rather charming and rustic Kepong, United Point Residence is a landscape changing freehold mixed development that will see the rise of three 45-storey residential towers along with a commercial complex that has a direct link to the soon to be constructed KTM Komuter United Point Station. The units here range from 667 sq ft to 1,206 sq ft with various layouts including one-bedroom and 4-bedroom units. Price starts at RM370,000 and do remember this is a mixed development with immense potential.
Puchong is another area where residential or even commercial projects are booming. With long existing amenities, the area could be attractive to those with families. An interesting prospect, The Nest Residences is a 2-block, 36-storey serviced apartment on a 1.7-acre freehold land in the densely-built Taman Tan Yew Lai at Jalan Puchong, a stretch of road that is in line with, and just as teeming with traffic as, Old Klang Road. There are, altogether, 618 apartment units, with an option of 2+2, 3+2 or 3+3 bedroom types. After rebates, the smallest unit is priced at RM385,310.
Among those rare affordable new developments in Petaling Jaya, Boulevard 51 is a mixed development located on Jalan SS9A/14, which is adjacent to Sungei Way Free Trade Industrial Zone in PJ. There are two blocks of Flexi Suites standing at 10 storeys high, where the lowest level is allocated for shop lots. The build ups of these unfurnished Flexi Suites range from 438 sq ft to 2,098 sq ft. Meanwhile, units are priced from RM371,000 onwards.
3Residences; it might actually be influenced by its 3 blocks of residential towers. Or, perhaps, it just blends well with its surrounding neighbourhood, which is known as 2Kajang. The development's three blocks are ascending with Block A (151 units) being the shortest, followed by Block B (188 units) and Block C (227 units). For the total density, it is just right for a city development, considering that the total land area is at roughly 4.07 acres. The price is estimated to be around RM338,000 to RM530,000.

Spanning over 17.8 acres of freehold land in this soon-to-become a self-sustaining township, The Olive consists of 663 apartment units spread in three blocks. There will be three lifts serving each block for the convenience of the residents there. Having a built-up size of 818 sq ft and spotting three rooms and two bathrooms, each unit will also be given two car park bays each. Having a freehold tenure and a residential title with an average price per square foot of around RM480, the listing price for The Olive is expected to start from an estimated price of RM399,800.
Riana Dutamas is a mixed development set on a 16-acre freehold land along Jalan Segambut, specifically located at Pintasan Segambut. A 1-bedroom between 650 sq ft to 850 sq ft would come with a free carpark whereas for the bigger units at 1,100 sf of 2-3 bedrooms, two carparks will be provided. Riana Dutamas' main concerns would be to accommodate the need for quality and affordable housing through more practical designs. Hence, the market rate for 650 sq ft -1100 sq ft at more than RM400,000, around the areas of Kuala Lumpur should be justified.
The Palm Garden Block C, Bandar Baru Klang
Set on 3.93 acres of land, The Palm Garden Block C is a medium-high-end apartment with a total of 332 units offered at a tempting price. Starting from around RM350,000, the biggest unit on the highest floor can go up to around RM550,000, with built-ups ranging from 1,033 sq ft to 1,151 sq ft. The average price per square foot then translates to RM350 onwards. An extremely affordable price in an exciting residential development.
Shah Alam is yet another popular location housing ample of affordable homes given its developing amenities along with a massive bank of land ready to be developed. Among its tempting affordable projects are Danau Perintis. It is the latest project by IJM Land in this new township called Shah Alam 2, a sub-township located in Bandar Puncak Alam. At only 252 units spread across three blocks, Danau Perintis is built on a 5.509 acres of land that's spacious enough to give its residents a host of facilities including a swimming pool and a multipurpose hall. Among Danau Perintis units are semi-ds, giving one an exclusive privacy while still being connected to the community at the same time. With starting price of RM350,000, many would not hesitant to migrate to Shah Alam.
Liberty Tower, which portray the inner comforts of apartments in New York, stands at 46 storeys high, faces the Central Plaza shopping mall and sits on top of a 6,500 parking facility. Offering units in the shape and form of a studio, to the standard 1-to 2-bedroom apartments, as well as the duplex, units in this serviced apartment have a built up of between 466 sq ft to 725 sq ft. Units start from RM383,600. Given how centrally located, Liberty Tower could be the ideal solution for young couples and small families to call home.
MILENIA Residenz, Seri Kembangan
MILENIA, a mixed development of 2 and 3 storey shop offices comprising MILENIA Walk and low density MILENIA Residenz by Alaf Cahaya Development Sdn Bhd, is a longitudinal adjoining single-block, 5-acre project situated adjacent to The LinQ-Kinrara Uptown right at the centrepoint between Pusat Bandar Putra Permai, Equine Park and Puncak Jalil. The central location of the 51-unit commercial center plus 398-unit serviced apartment commanding a 30,000-strong catchment population from the surrounding neighbourhood, connects thriving Seri Kembangan to throbbing Bukit Jalil. Price starts from RM400, 000 to RM540,000. It might be on a mid to high range but given the facilities and amenities around, it could be worth the purchase.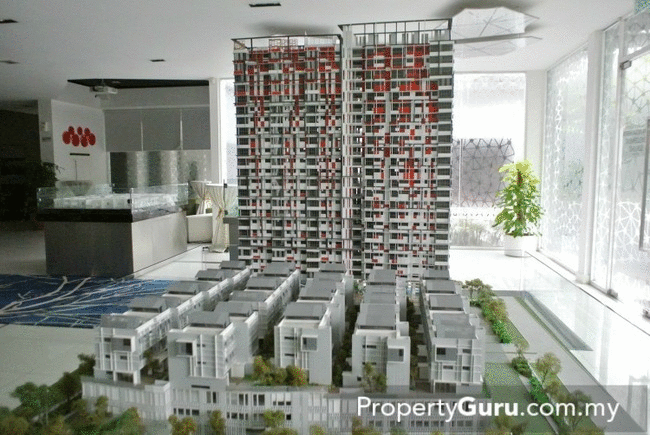 Nestled within Puchong's evolving Taman Tasik Prima is Elevia Residences condominium, sitting on 2.85 acres of land. It's a single block 27-storey condominium which towers over the accompanying villas. Low-range in density with 128 high rise units, the condominium exudes a tastefully elegant façade. Listed price starts from RM480,000 to 1.2 mil onwards. Privacy at an affordable price.
Distance and width of these properties might become the price that one must pay in getting an affordable home around Klang Valley. Longer commute and smaller living space. Sadly, times are hard. Hence, adapting to the conditions might just be the best way to go instead of whining to a situation that we can't change single-handedly!
For more information on these new homes, check out PropertyGuru's New Property Launches and Project Reviews.