"Bukit Jalil is a great investment place!"
          "No, Mont Kiara is better!"
                   "KLCC is always the best!"
                            "What about Kajang?"
Even in a deflated economy and market of failing ringgit, property investments still continue strong; and debates on where is the next best investment hot spot is always abundant. Feng Shui masters are propped up to proclaim where is the foreseen property boom area and analysts add to the discussions enthusiastically.
(By the way, after speaking to a Feng Shui master we discovered that that Kajang and Semenyih will allegedly be the next city centre. But of course he cannot confirm a timeline, whether it will be within the next 5 years or 80 years.)
But what many do not realise is that there is actually a science to whether an area will be the next property boom place or not.
Firstly and most importantly, if you take notice you will realise that almost every single successful development is part of a matured neighbourhood, or in recent days, part of a well designed integrated development – some of which include:
1. Setia Alam
Setia Alam can be said to be one of the pioneers of successful townships, spanning over 4,000 acres. There were many negative opinions about this township at its beginning, but its success today proves every nay sayer wrong. The township encompasses a shopping mall, many residential developments, well built and connected roads and excellent infrastructure. But a township does not necessarily need to be as big as Setia Alam to be successful, which brings us to our next township.
2. Desa ParkCity
Desa ParkCity encompasses only 473 acres, and is one of the most successful townships to-date. It is a dog-friendly development, and touts a well equipped commercial area that has an Aeon supermarket, bicycle rental shop, popular F&B franchises and there is even a unique dog-friendly shopping mall in the making. The residential properties here comprises high end landed properties and high rises.
3. Seremban 2
This would be one of the lesser known new townships, because it is located out of town. But driving from the 'old' Seremban into the 'new' Seremban, you will notice distinctive differences in the roads, infrastructures and residential properties.
Among some of the new and foreseen township successes are Eco Majestic by EcoWorld in Semenyih that will encompass 1,089 acres, Setia EcoHill by SP Setia neighbouring Eco Majestic and encompassing 1,010 acres, and the City of Elmina by Sime Darby in Sungai Buloh. The reason for the foreseen success of these developments lie in the fact that they are well planned with a broad range of amenities and infrastructure.
On the other hand, if you were to ply an area with great developments but without a master planner, what you will get are developers who refuse to build any new access roads or highways because it will affect their cost while benefitting other neighbouring developments.
A great example of this is the township of Rawang which everyone always predicted will be a great property boom, but to-date still remains an aspiration. New developments are continuously being built in this town, but the accessibility to this township is terrible at the best of times with terrifying traffic congestions during peak periods.
It is the norm for Rawang's access roads to be terribly congested by 7am, and for those who work in KL to leave their homes by 6am to avoid the jam and sleep in their office parking lots when they arrive at 7. There will not be any new dedicated highways built by any developer in Rawang such as the Setia Alam Highway unless it is a government effort, because it will also benefit their competitors.
Hence finding a home or property which is well within range of myriad amenities while being well connected to highways is very important for a new home buyer. The process is however quite tedious, and will require a lot of research and legwork.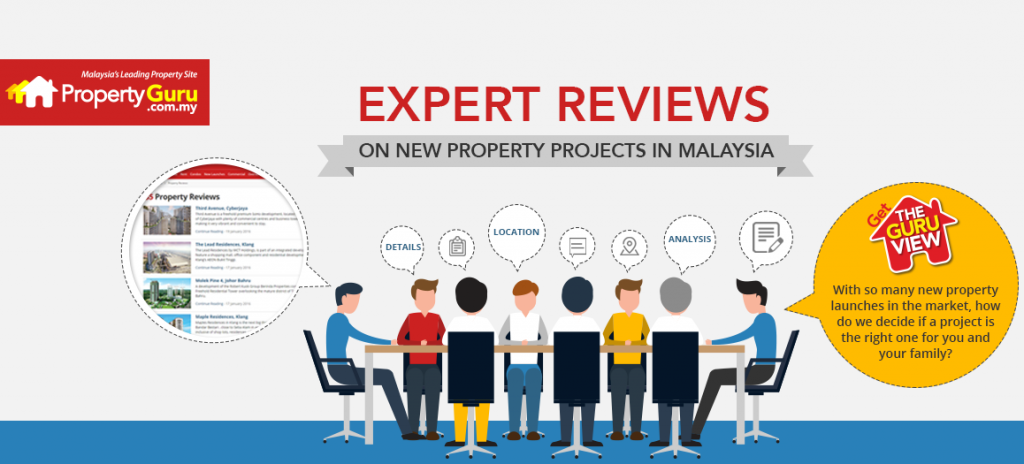 Fortunately, there are many websites nowadays dedicated to helping home buyers choose their next ideal property. One of the popularly chosen websites is PropertyGuru which their Project Reviews page covers a project in its entirety, from the access routes to the amenities and the advantages and flaws of a development. Newly launched projects are carefully reviewed to provide their readers details on the project, with analyses on the location and pricing plus future potential.
So still wondering where you should buy your next new property? Well, get started for 2016 is a great year for buying properties. Good luck with your property hunt!
Visit PropertyGuru to keep yourself updated on the latest launches, as well as to read unbiased property reviews of new projects.