Bandar Rimbayu's Run with Me event has returned complete with a glamorous Hollywood theme all in the name of fun, sportsmanship and friendship.
Now in its fourth edition, the 10km run was flagged off at 6:30am at The ARC, Bandar Rimbayu's show gallery, attracting over 2,500 runners from various background.
Setting aside the competitive edge of time and speed, the run's main objective was to encourage locals to practice a healthy life while having fun.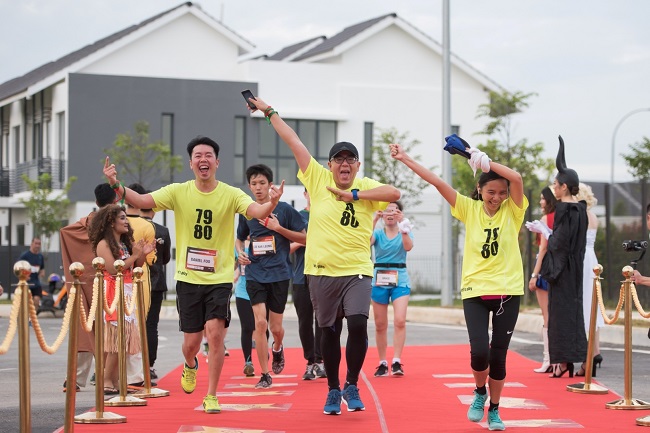 The event saw participants share positive vibes during the warm-up Zumba session while the act of togetherness was evident when Hollywood cosplayers cheered runners.
A percussion band also accompanied the runners throughout their journey. Participants taking a breather also enjoyed the three water stations which were inspired by a movie character.
Aside from the complimentary Puma jersey and runners, each participant was presented with a finishing medal which represented this year's Hollywood theme.
They also had the chance to win a total of 29 lucky draw prizes worth up to RM20,000.
"Run With Me has become a go-to running event in the country and now that we are organising the 4th installation, we have gotten an overwhelming response from the people and this gives us more motivation to come up with something more unique and special every year," said Bandar Rimbayu Senior General Manager Chai Kian Soon.
"Not only that, we always see people from our previous events joining in the fun. This shows that the people are supportive of our efforts and that it truly is a fun run for friends and families to enjoy!"
Commenting on his experience, one Run With Me participant said: "I am a runner and I've joined many running events in the past. However, many here should agree that there aren't many running events which emphasizes on the fun of it! This is a great initiative by Bandar Rimbayu and I'll definitely bring my friends along to join again next year."
After the fun run, the participants and members of the public were invited to join in Bandar Rimbayu's Raya Open House at The ARC, Bandar Rimbayu.
Visitors at the open house were treated with mouth-watering Raya delicacies from traditional Malay food stalls, while enjoying a special performance by Sharizan Borhan, an acapella performance by Colours of Voice boy band as well as traditional Malaysian dances.
Home buyers, sellers or property renters looking for properties like Bandar Rimbayu may like to visit the Project Reviews page.