PropertyGuru is pleased to announce a suite of new features and design updates that will take your property marketing from the sidelines to center stage.
We're bringing more visibility to Specialist products and Weekly Featured Listings users, creating better branding opportunities and delivering higher quality leads. Thanks to a more refined property search function and huge improvements to the look, the feel and the functionality of condo details pages for property seekers across mobile and desktop.
Here's what you need to know!
---
1. A more refined search to match the right audience to you
We're introducing location search at area level – a level below districts. This makes it super easy for property seekers to zero in on their favourite area when searching for a new home on PropertyGuru.
With interested property seekers now searching on a granular area, they will see only the results in that local search – rather than hundreds of listings in the district. This means that you and your listings will no longer have to compete for attention with hundreds of listings and agents in a dispersed district. More importantly, your property listing and your profile will now have more targeted reach and visibility than ever before.
2. More opportunities for District and Area Specialists
Area Specialists have always enjoyed prominent visibility in search results – your avatar, contact details and property listings are displayed at the top of search results pages.
With refined search, agents looking to position themselves as the uniquely knowledgeable, go-to agent of a specific location in Malaysia now have more opportunities to do so.
Because Specialist advertising is now available both at districts and areas, as District Specialist* and Area Specialist!
With a localised and focused approach to your advertising, your chances at receiving leads from highly targeted property seekers, owners and other agents looking to co-broke have increased.
Find out why you should be a District Specialist or Area Specialist.
3. Exposure in depth and breadth for Weekly Featured Listings
Agents leverage on Weekly Featured Listing to bring important listings to the top of property search results, giving them a boost in exposure to drive more leads.
With refined search, agents looking to drive highly targeted visibility with the most relevant audience can now do so.
Because Weekly Featured Listing is now offered at area level, instead of district.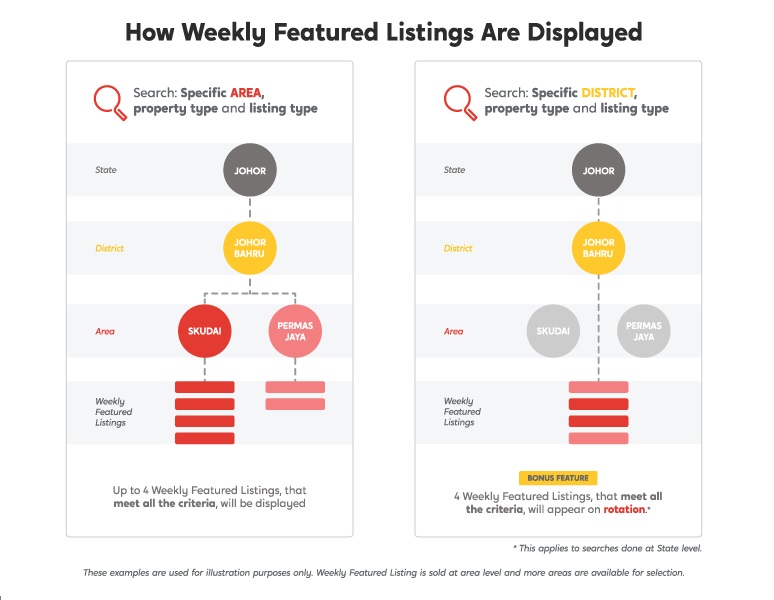 What's more, you will have triple the exposure for your listing – in State, District and Area search results.
When a property seekers search for property across a state or a district, they will see Featured Listings aggregated** from all the areas in that state or district, first. When he narrows the search to an area, your Weekly Featured Listing will be ranked highly in search results.
With targeted search advertising and more exposure, Weekly Featured Listings are a great way to get in front of more right audiences and drive super qualified leads.
Find out why you should feature your listings
4. New Condo Details Pages, New Advantages for Condo Specialists
Condo details pages are getting a facelift – from the way condo images and details are displayed, to they way we promote our Condo Specialists. We're making huge improvements to the look, the feel and the functionality of condo details pages.
– Two clicks and you're connected!
Condo Specialist is a unique branding opportunity and a great way for agents to demonstrate to property seekers, owners and other agents looking to co-broke that you're uniquely knowledgeable and understand the ins and outs of a specific condo.
With that level of prominence, it's important that interested buyers can contact you easily.
With the click of the "Contact" and "Contact All" buttons, a pre-filled enquiry form containing the name of the condo will be displayed right where they are, and blasted off with just another click.
Condo Specialists will now gain better insight into where leads originate.
– More exposure for Condo Specialist listings
Displayed in a carousel format, the updated Available Units section will now be more easily accessible and will showcase listings with larger images to capture the attention of property seekers.
3 latest listings of every Condo Specialists will be given priority to display here after Weekly Featured Listings. With these upgrades, you can now build your credibility and drive more exposure for your listings.
View an example of the New Condo Details Page
---
Triple Your Listings Exposure!
Join our free online training on Aug 16 to see how PropertyGuru's new features can triple the exposure for your hot properties, brand yourself a real estate expert and showcase your expertise.
Register now! English and Mandarin sessions are available.
* Before the introduction of refined search at area level, Area Specialists are tagged and sold at districts. This product has been renamed from Area Specialists to District Specialists now, so as to align with how it is truly displayed on search results pages.
** Displayed in rotation within 4 spots.
To secure your spot for District Specialist, Area Specialist, Weekly Featured Listings or Condo Specialist, please contact your Account Manager or call +603 7932 7555!