In line with emerging commercial property trends, the focus now has shifted to the south of the Golden Triangle, Kuala Lumpur's commercial business district, with the upcoming Tun Razak Exchange (TRX), PNB 118, and Bukit Bintang City Centre (BBCC).
The Tun Razak Exchange (TRX) is destined to be Malaysia's new financial hub. PNB 118 will set new records as the tallest building in Malaysia. While The Stride is the flagship commercial development in Bukit Bintang City Centre (BBCC), poised to be the significant new focal point in the city. 
With its extremely strategic location in the centre point of the Golden Triangle and top-of-the-line features, The Stride represents an excellent long-term business opportunity and promises transform the highly competitive commercial property landscape in Kuala Lumpur. There are numerous factors that make this 46-storey office tower, not just one of the most attractive corporate addresses for established companies and start-ups alike but a smart investment opportunity as well.
The Stride caters to the spectrum of businesses, from small ventures to larger-scale corporate operations, by offering competitively-priced office suites in a range of sizes, from 1,087 sq. ft. to 12,055 sq. ft. These units offer practical floor plans which allow for maximum usable space and easy customisation to suit all types of corporate requirements. Two or more units can be easily combined to make a larger space. Bespoke offices are also available.
In partnership with Regus Malaysia, a member of the IWG Group, which is a leader in global workplaces, The Stride offers tenants and business owners top-of-the-line business services and facilities. These include professionally managed reception services, conference rooms, business lounges, rooftop gardens and meeting rooms with conference technologies.
Within a World-class Integrated Development
The Stride is more than a prestigious business address. It is a gateway to the unparalleled lifestyle experience offered by BBCC. This extraordinary master-planned integrated development set on a 19.4-acre site in Jalan Hang Tuah, is a joint venture between Eco World Development Group Bhd, UDA Holdings Bhd and the Employees Provident Fund. 
Apart from Regus, BBCC has also forged a number of other strategic partnerships with leading international brands in order to introduce exciting new experiences to Kuala Lumpur. 
The Mitsui Shopping Park LaLaport is the result of BBCC's partnership with Mitsui Fudosan, Japan's largest real estate conglomerate. As the first LaLaport branded shopping mall in Southeast Asia, this 1 million sq. ft. of lettable area mall is positioned to be Mitsui Fudosan Asia's flagship project in the region.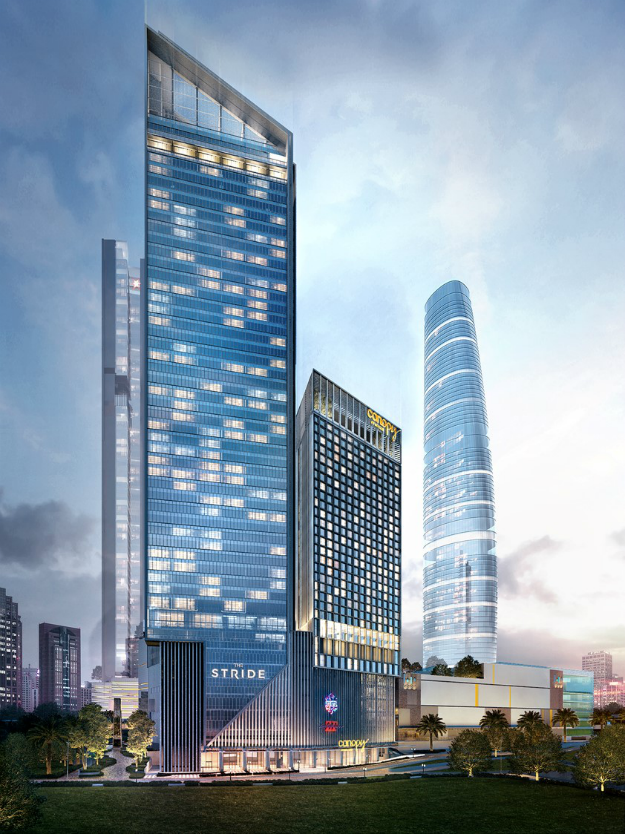 Scheduled to open in 2021, this LaLaport will have over 300 stores. Mitsui Fudosan Asia is inviting new-to-market tenants from Japan and abroad to take up retail spaces here, as part of its proposal for a new urban lifestyle that also encompasses culture, hobby and education.
Zepp Hall Network Inc, a subsidiary of Sony Music Entertainment Japan, opens its first concert hall in Malaysia in BBCC. This 70,000 sq ft space with a capacity to hold a maximum of 2,500 pax, will deliver Zepp's signature sound quality and lighting effects, making it the venue of choice for world-class acts.
BBCC will also be home to South-east Asia's first Canopy by Hilton. This energizing new concept takes hospitality to a personal level, offering simple, guest-directed service, thoughtful local choices, and surprisingly comfortable spaces.
Integrated and Transit-Oriented 
BBCC is an integrated development that prioritises placemaking and connectivity in its mission to become the spark that re-ignites the spectacular in the city centre. One of the key features of the master plan is the internal connectivity comprising a network of pedestrian paths and links that make moving around the development, including to and from the Stride, seamless and comfortable. 
Tunnels and pedestrian bridges also make it safe and effortless to get to BBCC from surrounding buildings without having to cross busy streets.
BBCC is a Transit-Oriented Development (TOD) with an annexed Transit Hub that is served by the Mass Rail Transit (MRT), Light Rail Transit (LRT) and Monorail lines. It makes the development a key departure and arrival point for daily commuters and business travellers alike.
The Monorail and MRT lines connect BBCC to KL Sentral Station, which is the major transportation hub in the Klang Valley. From here, riders can travel seamlessly around Greater Kuala Lumpur and to the  Kuala Lumpur International Airport and beyond.
It is also easy to drive to BBCC from any part of the Klang Valley via the network of world-class highways. A well-designed system of ramps and tunnels make entering and exiting the development a breeze.
A Green Enclave
The BBCC master plan has earned a Green Building Index (GBI)—Township Gold certification while the Stride itself is a GBI-certified commercial building that also offers state-of-the-art features and facilities. 
BBCC promises to be an oasis in the city centre. The expansive swathe of greenery which includes a breathtaking park that spans the roof of the retail mall, ensures biodiversity and environmental sustainability. The greenery surrounding the architecture and extending into the interiors not only enhance the ambience and aesthetic value but offer tremendous health and environmental benefits. They are also part of an overall strategy to optimise energy efficiency.
With a variety of open spaces, ranging from playing fields to gardens, there are numerous opportunities for outdoor activities and engagement in BBCC. The extensive network of shaded pedestrian paths makes it one of the most walkable enclaves in the city.
Rewarding Investment
Now is an excellent time to own a unit in The Stride with the EcoWorld Help2Own or H20 scheme.  One component of this scheme allows eligible buyers to put a downpayment as low as 5% and get a business grant amounting to 6% of their property purchase price.
To find out more about The Stride and the HOPE scheme, visit the BBCC Sales Gallery or call +603-2117 2255.